For many, Russia is a mysterious place, not yet a destination that is completely flooded by tourists but exposed enough that people are intrigued. The nation's capital, Moscow, is a truly cosmopolitan city and is the most foreigner-friendly area in the country.
English is quite prevalent throughout the city, and you will be able to find information about most tourist sites in many popular languages. The city still retains much of its traditional heritage, and this is most prevalent when you step inside the historic Red Square, which beautifully displays Russian architecture.
The square contains the Moscow Kremlin as well as the iconic Saint Basil's Cathedral, known for its colorful domes that make the building look like it belongs in a fairy-tale. Although Moscow can be more on the pricey side, there are still some fantastic hostel options to consider.
Let's have a look at the top five hostels in Moscow below.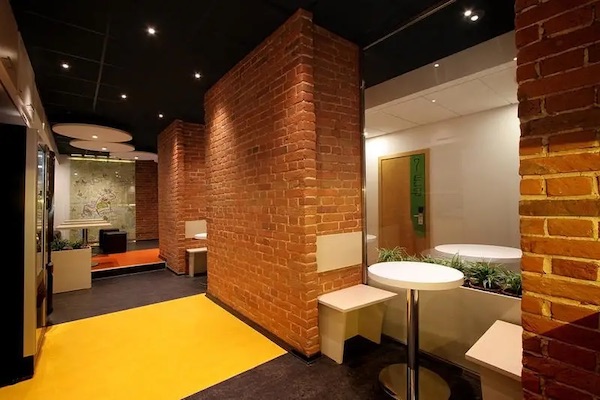 Vinegret Hostel
Vinegret Hostel is located within the Arbat district, which is known as one of the trendiest areas in Moscow. The hostel is close to all that the district has to offer with luxury shops, interesting museums, and unique boutiques all within walking distance. Vinegret Hostel offers both private twin rooms and four and eight-bed dorm rooms, which come with orthopedic.
All the rooms come with personal safes, so you can leave your valuables securely in your room when you're out exploring the city. If you'd like to relax and watch some TV while out of your room, there is a comfy common room available for use. The hostel has free wi-fi available as well as a 24-hour reception and can provide handy tips on the best things to do and see within the city, as well as current events and nightlife spots.
Hostel details
Address: 
Arbat 4 Bldg 1, Moscow, Russia.
Guest rating:
4.6 out of 5.
Price per night:
from $8.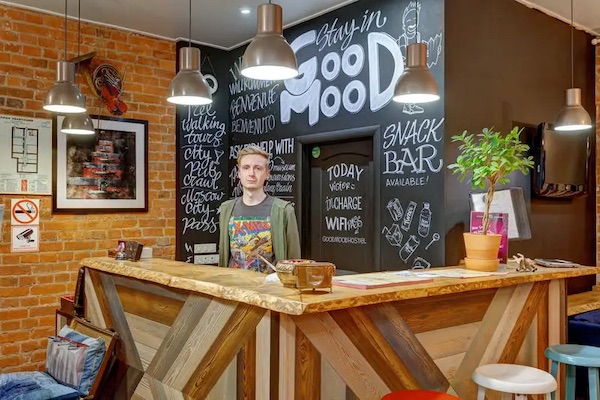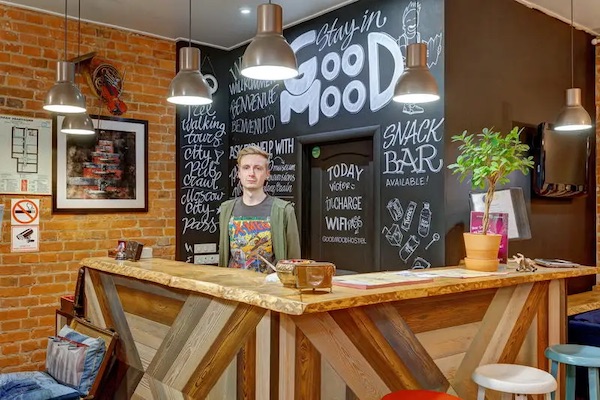 GoodMood Hostel
Bright and colorful but with an airy and light feel, this hostel has its style down pat. Modern industrial meets traditional Russian styling to create a perfect fusion that is perfect for your trip to Moscow. Located within a historic building and just moments away from the Kitay-Gorod Metro station, and within 10 minutes of the Kremlin, this location is ideal for first-time visitors to the city.
GoodMood Hostel has a mix of private rooms and dorms with bunk beds. If you choose to stay in one of the dorm rooms, you will have an extra level of privacy with each bed having its own curtain. The hostel offers free Wi-Fi throughout and has a kitchen as well as a comfortable lobby to sit and relax.
Hostel details
Address: 
Malyy Zlatoustinskiy per. 2., Moscow, Russia.
Guest rating:
4.6 out of 5.
Price per night:
from $13.
Netizen Moscow Rimskaya
This trendy hostel was given the award for Best Hostel in 2016 from the Moscow City Hall. The spacious hostel can house up to 246 guests and options include dorm rooms with 6-14 beds, twin bathrooms with a shared bathroom for the floor, family rooms that can accommodate up to 4 people, and double rooms that feature their own bathroom.
All beds come with orthopedic mattresses and your safety is ensured with electronic key card access to all rooms. Netizen Hostel has a large open plan-style communal zone where guests can enjoy watching TV, playing a game of foosball, or simply chatting to fellow travelers on the comfortable couches. Wi-fi is free for all guests, and breakfast, as well as return airport transfers, are available for a small fee.
Hostel details
Address: 
2 Boulevard Entuziastov, Moscow, Russia.
Guest rating:
4.8 out of 5.
Price per night:
from $9.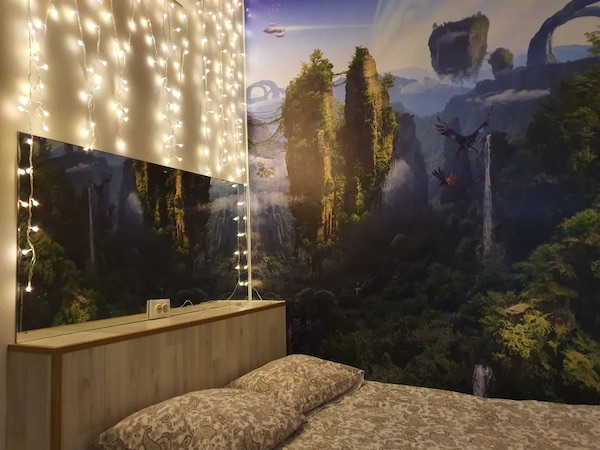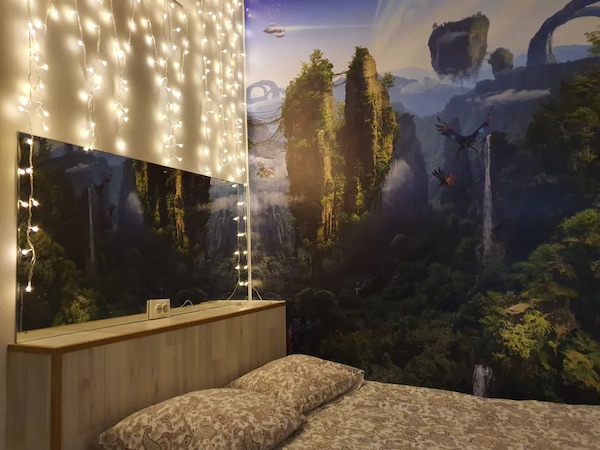 Light Dream Hostel
This comfortable hostel is set in the bustling commercial heart of Moscow within a 12-minute walk to the Red Square and the Kremlin. You will find lots of attractions and things to do right on your doorstep here at Light Dream. From wandering the beautiful historic streets to enjoying some authentic Russian food at one of the many restaurants nearby, you will never be short on things to do.
Light Dream Hostel provides both private rooms with ensuites, as well as female-only and mixed dorm rooms that sleep six to twelve people. All beds come with orthopedic mattresses, lamps, and lockers for personal use. The dorm rooms also feature curtains for each bed for privacy. Free wi-fi is included throughout and reception is available 24 hours.
Hostel details
Address:
Zlatoustinskiy Bolshoy per., 3/5 с1, Moscow, Russia.
Guest rating:
4.5 out of 5.
Price per night:
from $8.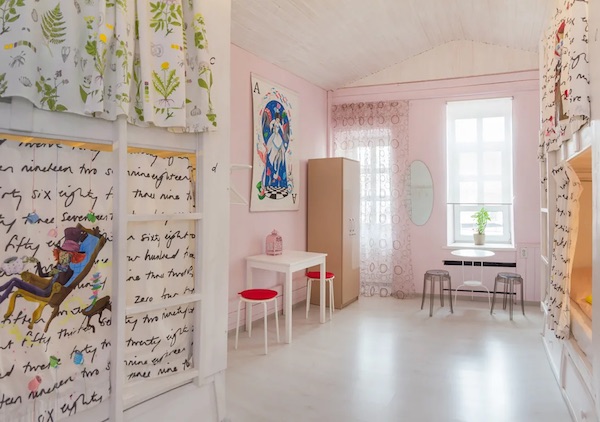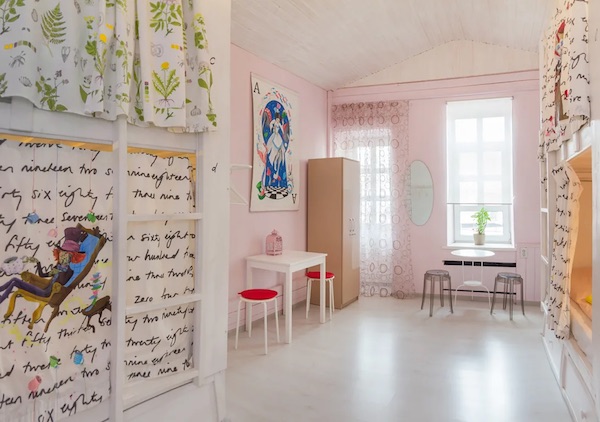 ART Hostel
Staying at this hostel is like seeing your childhood dreams come to life. Colorful rooms with hand-painted characters on the walls combine with light and airy spaces to make this hostel truly unique. ART Hostel is located in the center of Moscow, only 15 minutes away from the Red Square and the Kremlin. There are also many great restaurants, bars, and shops as well as the convenience of ATMs and pharmacies on Myasnitskaya street just a short distance away. Lubyanka­ metro station is a quick five-minute walk away.
Accommodation is offered in both private and shared rooms, and each of the dorm rooms comes with a specific theme. Beds come complete with privacy curtains, reading lights, storage lockers and power sockets. If you feel like spending a night in, you can watch movies on the big screen TV, or play board games in the spacious common room. There is also free wi-fi available and 24-hour reception to assist you.
Hostel details
Address: 
Krivokolennyy 4c3, Moscow, Russia.
Guest rating:
4.7 out of 5.
Price per night:
from $10.
About our Moscow hostel recommendations
Are you a solo traveler looking for a private room? Or a backpacker traveling around in a group wanting to stay in a cheap and cozy dorm? Above you will find the best hostels in Moscow for all your needs.
Please note, we only list hostels that have an aggregated guest review rating of at least 4.0 out of 5. We aggregate all reviews from different booking sites and other unbiased review websites. Hence, you can be certain all hostels listed above offer an excellent value-for-money stay in Moscow.
Best price guarantee
For our hostel recommendations, we work together with Hostelworld and Booking. These partnerships don't have any influence on the recommendations we make or on the order in which our recommended hostels are listed. The reasons why we have chosen to partner with these companies is that they're trustworthy, offer excellent service and they both apply the best price guarantee. This means you can claim a refund for the difference if you find your reservation cheaper on another website. It has to be for the same property, accommodation type, dates, cancellation policy and conditions, otherwise, you can't claim the refund for the difference. If you book through Booking.com then all you need to do is contact them at least 24 hours before your check-in date. If you book through Hostelworld you must claim the refund within 24 hours after you made the booking.
Top 5 hostels in Moscow
To summarize again, based on thousands of guest reviews, these are the best hostels in Moscow:
Why you should be careful when booking the cheapest hostel available
The cheapest hostels available are typically not in a great location. If you want to go sightseeing or go for a night out in central Moscow, you probably end up having to pay for public transport or a taxi to get there. So your stay could end up being more expensive compared to a stay in a central location. For first-time travelers, we recommend staying central anyway, but also for frequent visitors, it's probably worth it to pay a bit more to stay in a central location.
Another reason why you shouldn't stay at the cheapest hostel is that the people staying at the cheapest hostels are often not the people that can afford to travel like you. Because a very cheap hostel is often cheaper than renting a flat, these places tend to attract migrant workers or local misfits. That's probably not the crowd you want to hang out with, especially if you're a solo traveler looking for friends.
The third reason why you should avoid the cheapest hostels is safety. Some of the cheapest hostels don't check IDs, don't ask for signatures, or only accept cash at check-in. The hostel won't know who is actually staying there.
Lastly, the service at these hostels isn't great. For instance, if you choose to store your luggage, your bags will be unattended in a public space. It won't be recorded anywhere or tagged and stored in a locked room.
So, it's probably worth it to spend a bit more on your hostel stay in Moscow.
And finally, a tip: always read the latest reviews of the hostel! All places have good and bad reviews, but the most recent reviews matter the most.
Get to know the city even better and check out our other articles about Moscow:
Best boutique hotels in Moscow