This beautiful German city sits along the river Main and is the financial capital of Germany. Because of its multitude of skyscrapers and its river location, it is often referred to as Germany's Manhattan. Although the city only has 700,000 residents, it is a highly diverse city, and more than half of its residents are non-German.
During World War II the historic city was nearly completely leveled so what you see today is mainly the work of expert restoration, however, it has been done so well that you can hardly notice where the old meets the new. With that being said, there is also a diverse range of things to see and do while here. There is interesting history to discover, beautiful architecture, a great selection of art and museums, as well as delicious cuisine.
Being such a hub for travel makes Frankfurt a great place to meet others and what better way to meet people than by staying at a hostel! Let's go through five of the best hostels within Frankfurt.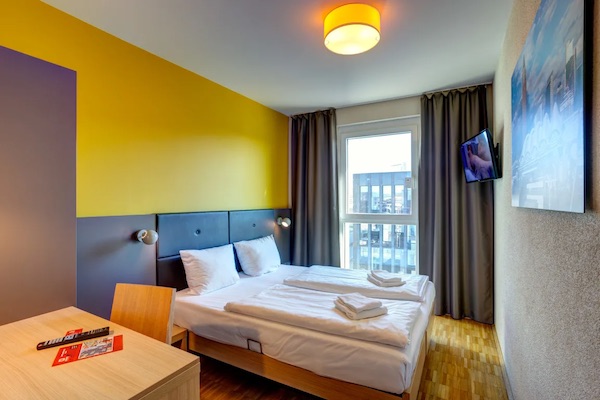 Meininger Frankfurt Messe
This stylish and modern hostel has everything you need to enjoy a comfortable stay in Frankfurt. Positioned only one stop away from the city's main station makes it a breeze to get around to anywhere you need to go. The location of Meininger Frankfurt Messe itself is within a quiet street, so you can rest and recuperate after a long day of sightseeing and exploring the city.
If you feel like spending your day inside, you can play pool or have a drink with your fellow guests at the bar. Choose from either a single, double, or shared dorm-style accommodation. Meininger offers free wi-fi and 24-hour reception as well as the use of the kitchen. Breakfast is provided for a small charge.
Hostel details
Address: 
Europaallee 64, Frankfurt, Germany.
Guest rating:
4.4 out of 5.
Price per night:
from $26.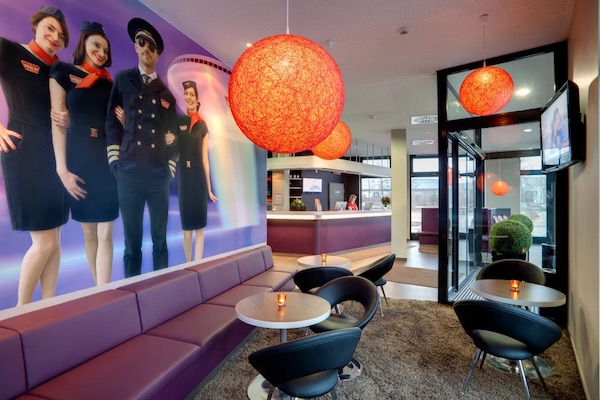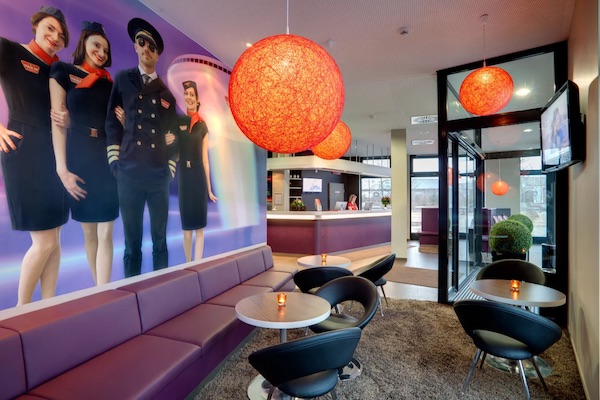 Meininger Frankfurt Airport
This hostel is all about convenience and catering to those who are arriving or departing via the airport, as it is able to be reached on foot or if you would prefer you can take the shuttle service arranged by the hostel. A screen is set up to show the latest arrival and departure times so that you are kept up to date if there are any changes, and you can check in to your flight via the free wi-fi.
If you are flying out very early you can take advantage of the hostel's early-bird breakfast service, or if you're waiting for a late flight you can pass the time at the pool or poker table at the bar. Meininger Frankfurt Aiport offers single, double, or multi-bed private rooms as well as a dormitory. If you need to sleep off some jetlag you will love the soundproof windows that can be blacked out completely.
Hostel details
Address: 
Bessie-Coleman-Straße 11, Frankfurt, Germany.
Guest rating:
4.5 out of 5.
Price per night:
from $18.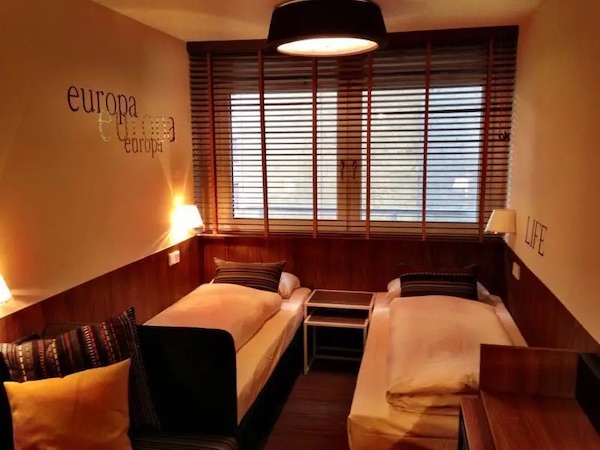 Hotel Europa Life
The Hotel Europa Life is situated in the city center of Frankfurt only 100 meters away from the main train station for ultimate convenience which makes it perfect for leisure travelers or those who are coming to Frankfurt for work purposes also.
Hotel Europa Life provides private rooms all with their own bathroom. There is also a minibar in each room so if you are feeling peckish late at night you don't even have to leave your room to grab a snack. Free wi-fi is included throughout, and the helpful reception team is available 24 hours a day.
Hostel details
Address: 
Baseler Strasse 17, 60329 Frankfurt Main, Frankfurt, Germany.
Guest rating:
4.5 out of 5.
Price per night:
from $35.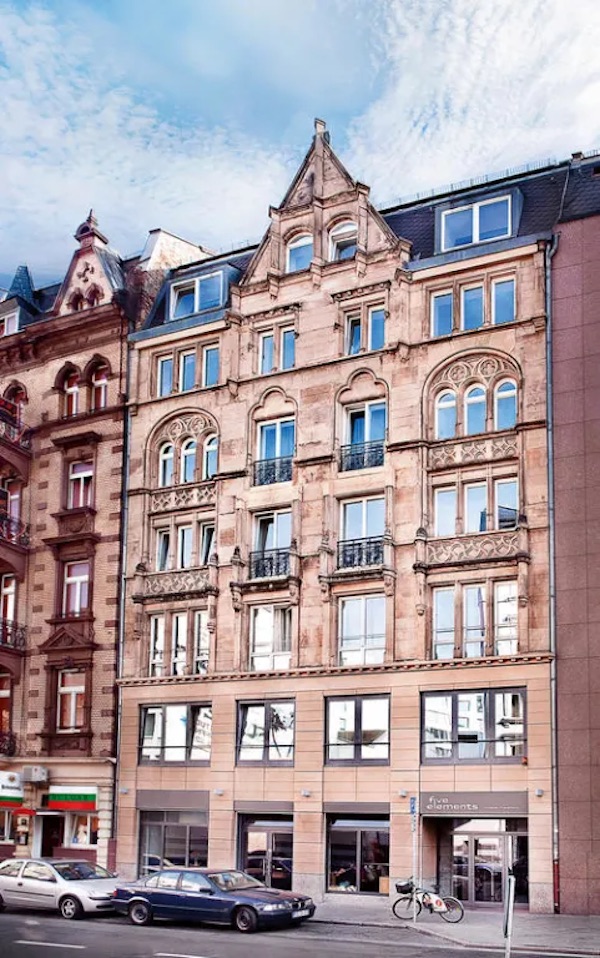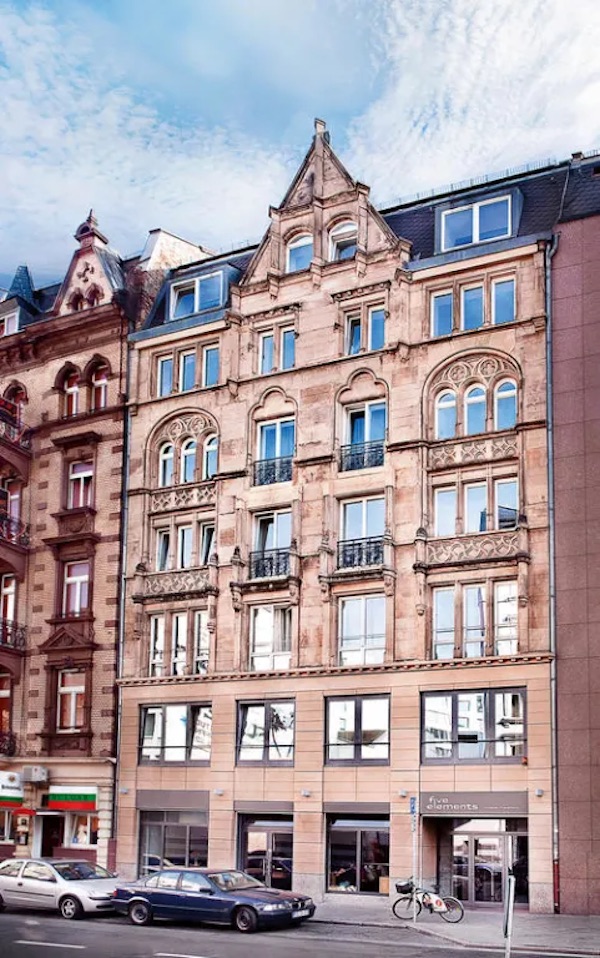 Five Elements Hostel Frankfurt
Right in the heart of the city, you will find Five Elements located near the Altstadt (Old Town) neighborhood, famous for its red-light district but also its delicious menu of international food and photogenic gothic architecture. The main rail station is just a 5-minute walk away, and within 15 minutes walk, you will be able to reach the city center where you can visit the grand Alte Oper opera hall among other things.
Nights in are never boring at Five elements with crêpe and pasta evenings, to movie and trivia nights, there's even free beer tasting available! Accommodation options include private rooms and mixed or female-only dorms, which all come with comfortable mattresses and lockers. Both reception and the kitchen are open 24 hours a day and wi-fi is free.
Hostel details
Address: 
Moselstr 40, Frankfurt/Main, Frankfurt, Germany.
Guest rating:
4.4 out of 5.
Price per night:
from $24.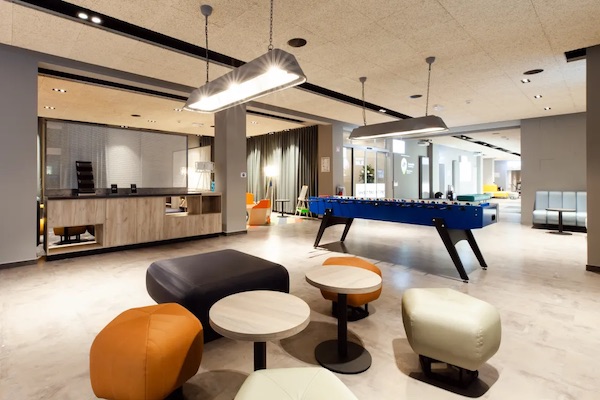 A&O Frankfurt Ostend
This large brand-new hostel offers 226 single, double, family and shared rooms that are modern and comfortable. You'll never go hungry with the 24-hour snack bar and budget-friendly all-you-can-eat buffet breakfast at A&O Frankfurt Ostend.
With a public transport stop right outside the front door, you will easily be connected to the whole city. If you have any questions or want insider tips on Frankfurt, the friendly 24-hour reception team is happy to help.
Hostel details
Address: 
Hanauer Landstraße 207, Frankfurt, Germany.
Guest rating:
4.3 out of 5.
Price per night:
from $15.
About our Frankfurt hostel recommendations
Are you a solo traveler looking for a private room? Or a backpacker traveling around in a group wanting to stay in a cheap and cozy dorm? Above you will find the best hostels in Frankfurt for all your needs.
Please note, we only list hostels that have an aggregated guest review rating of at least 4.0 out of 5. We aggregate all reviews from different booking sites and other unbiased review websites. Hence, you can be certain all hostels listed above offer an excellent value-for-money stay in Frankfurt.
Best price guarantee
For our hostel recommendations, we work together with Hostelworld and Booking. These partnerships don't have any influence on the recommendations we make or on the order in which our recommended hostels are listed. The reasons why we have chosen to partner with these companies is that they're trustworthy, offer excellent service and they both apply the best price guarantee. This means you can claim a refund for the difference if you find your reservation cheaper on another website. It has to be for the same property, accommodation type, dates, cancellation policy and conditions, otherwise, you can't claim the refund for the difference. If you book through Booking.com then all you need to do is contact them at least 24 hours before your check-in date. If you book through Hostelworld you must claim the refund within 24 hours after you made the booking.
Top 5 hostels in Frankfurt
To summarize again, based on thousands of guest reviews, these are the best hostels in Frankfurt:
Why you should be careful when booking the cheapest hostel available
The cheapest hostels available are typically not in a great location. If you want to go sightseeing or go for a night out in central Frankfurt, you probably end up having to pay for public transport or a taxi to get there. So your stay could end up being more expensive compared to a stay in a central location. For first-time travelers, we recommend staying central anyway, but also for frequent visitors, it's probably worth it to pay a bit more to stay in a central location.
Another reason why you shouldn't stay at the cheapest hostel is that the people staying at the cheapest hostels are often not the people that can afford to travel like you. Because a very cheap hostel is often cheaper than renting a flat, these places tend to attract migrant workers or local misfits. That's probably not the crowd you want to hang out with, especially if you're a solo traveler looking for friends.
The third reason why you should avoid the cheapest hostels is safety. Some of the cheapest hostels don't check IDs, don't ask for signatures, or only accept cash at check-in. The hostel won't know who is actually staying there.
Lastly, the service at these hostels isn't great. For instance, if you choose to store your luggage, your bags will be unattended in a public space. It won't be recorded anywhere or tagged and stored in a locked room.
Get to know the city even better and check out our other articles about Frankfurt:
Best cheap hotels in Frankfurt
Best boutique hotels in Frankfurt