One of the global leaders of business, finance, tourism, and technology is Shanghai. This is an area of China that is from the future, as they are constantly innovating and pushing the limits of technology. This is why Shanghai is a top destination for world travelers.
Shanghai is home to over 26 million people, and there is a ton of culture packed into the city's streets. If you are an outsider, this is the perfect place for exploration as the cuisine, architecture, and entertainment are all to be desired.
Traveling in this area of the world comes with a pretty hefty price tag. You may need to do certain things to make budget traveling work in Shanghai. The best way to do it is staying in a budget hotel. Here are the three best cheap hotels in Shanghai!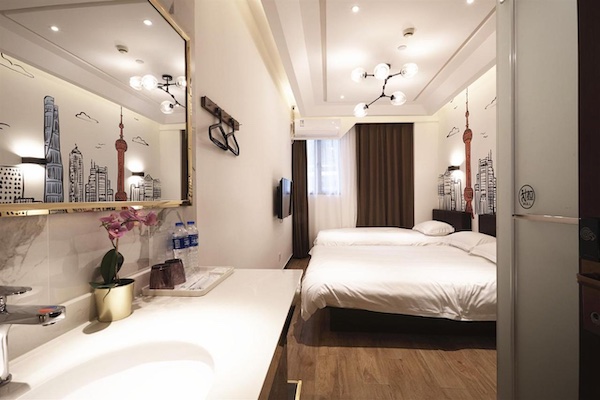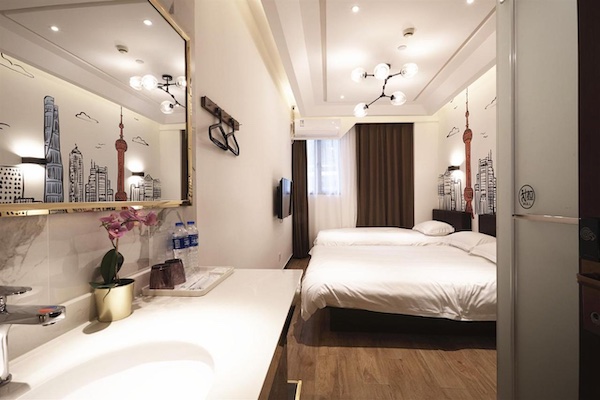 Meego Yes Hotel
We will start with the very modern Meego Yes Hotel. This is a spot in the Jing'an District that brings really nice value despite a fairly low price. To start, we will cover the physical location. You are a little bit distanced from the main attractions, but spots like Pedestrian Street, Jing'an Temple, and Oriental Pearl Tower are a mile or two away. You can walk to these locations, or you can hop on the subway and save some time.
This is also a unique hotel because it is similar to a hostel. There are a couple of dormitory options to save the most money possible. These are shared rooms with multiple people. If you want a private room, there are a few options for that as well. This is an interesting combination of traditional hotel offerings and those of a hostel.
There is also a delicious restaurant right on site. Although we always recommend branching out and experiencing the local cuisine outside the hotel, this adds some convenience to your stay. There is also a terrace and sundeck, shared kitsch, and baggage storage. Although this is pretty basic due to the living quarters, the Meego Yes Hotel can be a great option.
Hotel details
Address: 
No. 139, Jingjiang Road, Jing'an District, Jing'an, 200436 Shanghai, China.
Guest rating:
4.3 out of 5
Price per night:
From $16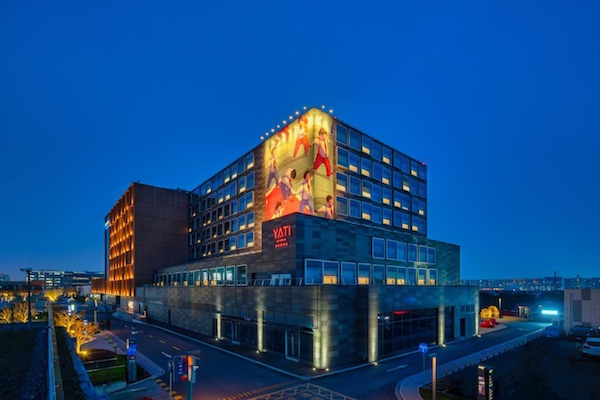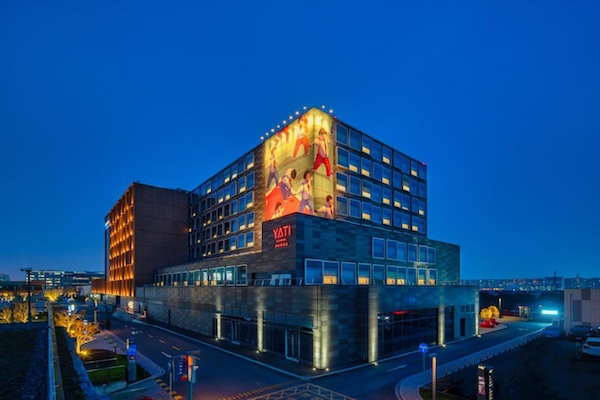 YaTi by Artyzen Hongqiao Shanghai
From the outside, the YaTi by Artyzen Hongqiao Shanghai is an impressive building that provides a really nice user experience. A cool aspect is the view of Shanghai you get from the hotel. Because it is not right downtown, you can enjoy the skyline in a quieter area of the city.
That brings us to the physical location. This is probably the most distant option on our list, so you will have to plan for that. Seeing the top attractions like the Jing'an Temple and People's Square will require additional transportation. This is part of the reason why you still get a nice hotel for a lower price. Taking a taxi or renting a car will help you connect with the city. There is also a subway station within walking distance, so that is also an option.
There are only two room offerings here, so it is as simple as it gets. You can get a standard king room or a superior king room. That it is. If you want a bit more room, go with the superior option. Overall, the YaTi is a hotel that is a bit disconnected geographically but offers a really good consumer experience.
Hotel details
Address: 
3999-6, Hongxin Road, Minhang District, Minhang, 201103 Shanghai, China.
Guest rating:
4.5 out of 5
Price per night:
From $48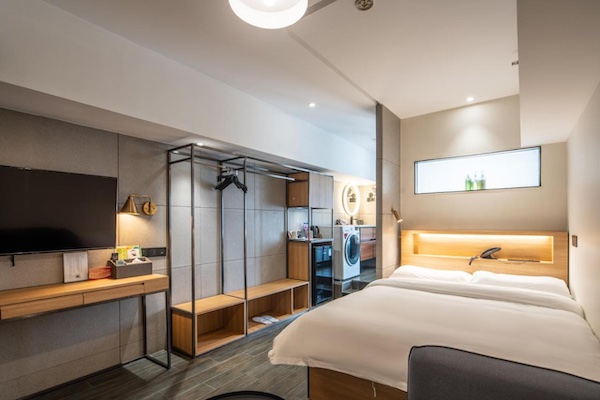 Moju Hotel
Last, but not least, there is the Moju Hotel. This is a location that focuses on giving you plenty of amenities to enjoy without a large price tag. This is a bar for socializing, and there is a fitness center to give you the option of working out when on the road. Although the amenities are not fancy, they add some nice value to your budget stay.
There is also a nice range of rooms available, unlike the previous option. To save the most money, there is a simple single room. This just gives you a bed and some extra room for luggage. That is about it. At the highest level, there are the superior room and family room that both bring more room and a bit better experience. When you have options like this, you can specify the experience to best fit your needs.
Finally, it is important to talk about the physical location. Although it is not as disconnected as the previous entry, you may need to use transportation to get around to the hotspots. For example, you are about three miles from People's Square and the surrounding area. Be sure to use the subway or a taxi to maximize your experience.
Hotel details
Address: 
No. 71, Lane 822, Changshou Road, Putuo District, Putuo, 200001 Shanghai, China.
Guest rating:
4.4 out of 5
Price per night:
From $45
About our budget hotel recommendations in Shanghai
We are a travel research company. Our team helps you discover the best cheap hotels in Shanghai by researching the internet for you. We have also visited some of these places. Hence, it's not just our opinion, it's the opinion of thousands of travelers who have been there before you. We make it easy for you to find out about the best budget hotels in the city.
Please note, we only list hotels that have an aggregated guest review rating of at least 4.0 out of 5. We aggregate all reviews from different booking sites and other unbiased review websites. Any hotel listed here should have a price of $100 or less per night. Hence, you can be certain all hotels listed above offer you a great and affordable stay in Shanghai.
Lowest price guarantee
We partner with Booking.com and Hotels.com. Both booking websites offer the lowest price guarantee, so you can be certain you will always get the best deal for the hotels above. If you have seen a better price elsewhere, all you need to do is contact the booking website, and they will refund you the difference immediately. You can price match right up until the day before check-in.
We also recommend you read our guide about how to save money on hotel bookings. It's a list of tips about when you should book a hotel, what tools you can use, and other things you can do to find your preferred hotel at an affordable price.
Top 3 budget hotels in Shanghai
Let's summarize this affordable travel guide. Based on thousands of guest reviews, these are the best budget hotels in Shanghai:
More Shanghai recommendations
Get to know the city even better by reading our other articles about Shanghai:
Best boutique hotels in Shanghai