Are you planning a family trip to Orlando? Is your company sending you there on business? No matter what brings you to Orlando, Florida, there are some great places in the city to stay.
Orlando is one of the tourism capitals of the United States and has a ton to offer to its visitors. Everything from the big attractions like Universal Studios to Walt Disney World to the more underrated activities like exploring the nightlife and going to a professional sports game.
There are a few different areas in Orlando that you can choose to stay depending on what you want to get out of the experience. If going to the bars and experiencing nightlife is important, there is a place for you. If having a safe, clean area for your whole family to stay is a priority, Orlando has that too.
Here are five great areas for you to stay while in Orlando!
Downtown
If it is your first time visiting Orlando and you would like a fun-filled and bush experience, downtown Orlando is the perfect spot. You are just a short drive from all of Orlando's famous attractions. This is the perfect place to stay if you don't want to get a room on Disney's or Universal's property and just want to visit for the day. This will save you money and give you a much different view of the city.
Staying downtown will give you quick access to everything you may need. From shopping opportunities to world-class restaurants to numerous things to do are all found right here. Some of the city's best attractions include the Orlando Science Centre, home of the Orlando Magic, the Mennello Museum of American Art, and so much more. All of this is found right downtown and in the heart of the action.
Downtown is also home to some of the best hotels in the entire city. Since everything is so close, you can simply walk to dinner or go grab a drink at one of the many bars right down the block.
Best place to stay in Downtown Orlando
The Delaney Hotel. Address: 1315 South Orange Avenue, Orlando, FL 32806, United States of America.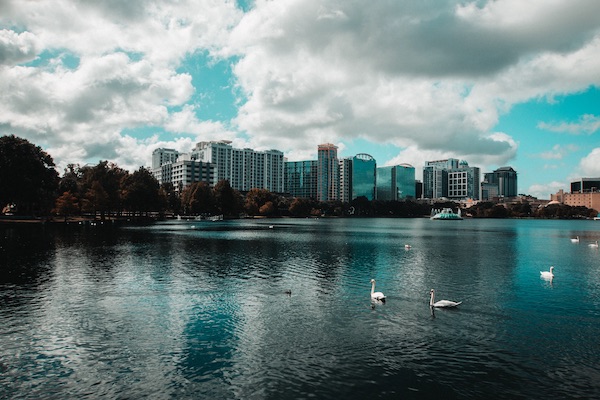 South Eola
If you desire a calmer and more serene experience, staying in South Eola may be the right move. This is a smaller community, but the natural beauty of the area is worth the visit. If the hustle and bustle of downtown or any of the theme park areas are too much, South Eola is the answer.
You can take a load off as your stroll around the neighborhood and take advantage of the gorgeous public trails and Lake Eola. The combination of green grass, swaying palm trees, and the beautiful lake is very calming and comforting. This is a great way to get a break from the fast-paced lifestyle that comes with staying in a big city.
Although slowing things down and relaxing is a big selling point of South Eola, there are still activities to do and sights to see. There are various bars and sit-down restaurants on the main drag that offer great options. There is also the Downtown Orlando Info Center, Orange County Regional History Center, and some other awesome attractions.
Best place to stay in South Eola
Eõ Inn and Spa Downtown. Address: 227 N Eola Dr B, Orlando, FL 32801, USA.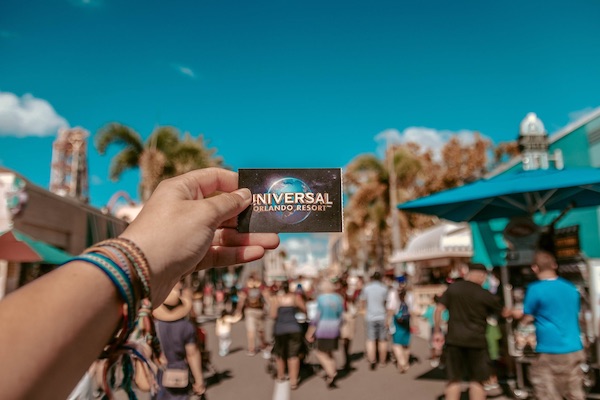 Southwest Orlando
Now, if you are wanting the action-packed visit to Orlando, Southwest Orlando is an excellent choice. Mainly, this is the home to Universal Studios and Walt Disney World. Two of Florida's biggest attractions are nestled right in this area. This is known as the theme park area of Florida. All of your favorite attractions are housed right in the Southwest Orlando area.
The best part about staying in Southwest Orlando is that you can experience Florida's best attractions without even having to leave the neighborhood. You can spend a week right here and you will still have things to do without having to venture more than a couple of miles from your hotel.
Some of the more underrated attractions in the area are an escape room, homemade candy shops, mini-golf, and so much more. Don't just think that Universal and Disney are all that is offered here. Yes, those are fantastic places to visit, but there is a little something for everyone sprinkled throughout.
Best place to stay in Southwest Orlando
Hyatt Regency Grand Cypress Resort. Address: 1 Grand Cypress Blvd, Orlando, FL 32836, USA.
Lake Cherokee
Just south of South Eola sits Lake Cherokee. This is quite different from the other neighborhoods as you will find much more peace and quiet. The fast-paced lifestyle that can be found in the other neighborhoods does not call Lake Cherokee home.
Instead of nightclubs and shopping centers, this area is far more residential with public parks sprinkled in. As the name implies, there is a Lake Cherokee that accompanies Cherokee Park. This is the hotspot of the neighborhood it is a great place to unwind and enjoy beautiful weather.
A great perk of staying in Lake Cherokee is its proximity to the various theme parks of Orlando. You can be less than 30 minutes from Universal Studios and still stay in a serene, safe location. Lake Cherokee is truly the best of both worlds. You are close enough to the action that you don't have to drive very far, but you are far enough away that you do not have to deal with a ton of traffic and business.
Best place to stay in Lake Cherokee
Sonder Wellborn Hotel. Address: 211 N Lucerne Cir W, Orlando, FL 32801, USA.

Kissimmee
The final neighborhood is Kissimmee. Kissimmee is its own town but can be considered a district of Orlando because of its very close proximity to the rest of the city. This is also considered by many to be a part of Orlando because there are specific public transit systems that go to downtown and the big theme parks from Kissimmee. But this can work to your advantage. It is very easy to get into the city and hotels are generally cheaper than in other Orlando areas. If you are looking to save some money, this is an excellent option.
This area sits right next to Lake Toho, which is a very popular bass fishing location. After exploring downtown or finishing up at Disney World, settle down in Kissimmee by going to a great restaurant or spend some money at the local shopping centers.
Best place to stay in Kissimmee
Hotel Embassy Suites Lake Buena Vista South. Address: 4955 Kyngs Heath Road, Kissimmee, FL 34746, United States of America.
Where travel critics stay in Orlando
Want to know where travel critics from publishers like The New York Times, Frommer's, Fodor's and Lonely Planet stay in Orlando? Check out our overview of all recommended hotels, hostels and B&Bs in Orlando.
Budget
"This lovely option comprises four buildings, all different, from a historic home (1883) to an art-deco gem. The spacious rooms are decorated according to their era. It has enchanting gardens and genteel breakfast." — Lonely Planet.
Address: 211 N Lucerne Cir W, Orlando, FL 32801, USA.
Mid-range
"With the original terrazzo floors, marble walls and 10-foot floor-to-ceiling windows. The Aloft is conveniently located across the street from the Dr. Phillips Center for the Performing Arts." — New York Times.
Address: 500 S Orange Ave, Orlando, FL 32801, USA.
Luxury
"Contemporary white-walled elegance, a low-key welcoming vibe, colorful interiors in well-appointed rooms give this Winter Park gem a distinct style. There's a lovely rooftop pool and an excellent restaurant that serves locally sourced food on courtyard tables." — Lonely Planet.
Address: 300 E New England Ave, Winter Park, FL 32789, USA.

Best things to do in Orlando
There are a lot of things to do in Orlando and surrounding areas, including day trips, attractions, museums, sightseeing tours and many other activities. Here's our list of 3 things you should definitely do when you're in and around Orlando:
Florida Everglades Airboat Tour and Wild Florida Admission with Optional Lunch
Escape to the wilderness of the Florida Everglades from Orlando on this airboat adventure. This exciting nature tour includes admission to the Wild Florida Airboats and Wildlife Park. Price: $30. More info.
Kennedy Space Center: Admission Skip the Ticket Line
Bring out your inner astronaut and enjoy a full day of unique experiences at the world's most authentic space attraction – NASA's Kennedy Space Center Visitor Complex. Price: $61. More info.
Clear Kayak Tours in Rock Springs
A good choice for nature lovers, this tour takes you into a unique part of Rock Springs Run known as "Emerald Cut." Price: $67. More info.
Deciding where to stay in Orlando
As you can see, there are a lot of things to explore, and deciding where to stay in Orlando is important. Whether you stay in Downtown, South Eola, Southwest, Lake Cherokee or Kissimmee, all those neighborhoods are in good locations.
The atmosphere of the area, whether you travel for leisure or business, whether you travel with your family or friends, and proximity to the attractions you prefer to visit should probably be the deciding factors. Whatever your preference is, you'll have a great time in Orlando.
Check out our other guides about the best places to stay in Orlando: