As the theme park capital of the world, Orlando, Florida is a destination for millions every year. Disney World and Universal Studios are just two of the biggest theme parks in the world that are located in Orlando. These are on top of a number of great attractions and sites in the city.
There is also a strong business presence in Orlando. Especially in the downtown area, the tourist locations start to fade out and more business-centered endeavors take over. So, whether you want a fancy family vacation, easy access to the ocean, or you want to host some business meetings, Orlando is a great place to do it.
One of the best ways to tackle this large area is by staying in a luxury hotel. These are the top-of-the-line accommodations that ensure a great stay.
So, here are three of the best luxury hotels in Orlando!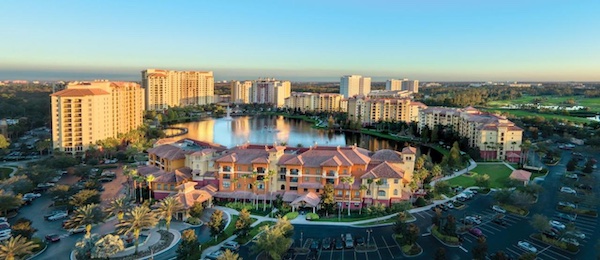 Club Wyndham Bonnet Creek
If you are with your family or just want to be close to the top tourist attractions, the Club Wyndham Bonnet Creek location is an excellent option. You are a short drive away from Disney and a number of other hotspots. Physical location is a huge part of any hotel stay, so keep this in mind.
There are also some excellent amenities and features to take advantage of before having to leave the property. There is a lazy river, many pools, waterslides, and more right at the hotel. This is a mini-resort that will give you some great options for fun without having to travel and pay to get into other spots.
The other big perk of the Club Wyndham is the room options. When food is so expensive at the big parks, it is a great perk to be able to cook for yourself. This hotel has many suite upgrade options that have full kitchens. This is a commodity that should not be overlooked. Plus, the suites provide a good bit of extra room for all of your friends and family. So, if the budget allows, make the upgrade.
Hotel details
Address: 
9560 Via Encinas, Lake Buena Vista, Orlando, FL 32830, United States.
Guest rating:
4.4 out of 5
Price per night:
From $140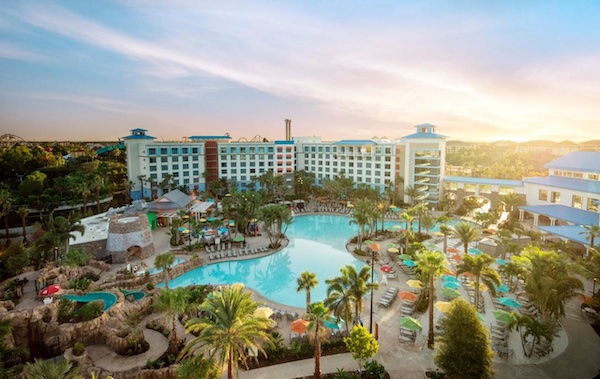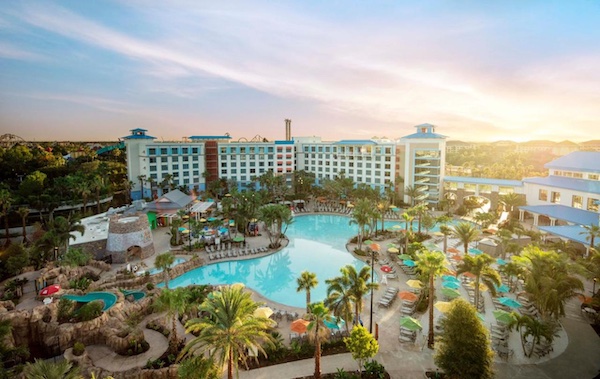 Sapphire Falls Resort
What better way to take in the world-famous theme park scene than staying at one of the biggest? Sapphire Falls Resort is on-site accommodation at Universal Studios. This is a luxurious and fun place to stay so you can still have easy access to the huge theme park right there.
Staying here will transport you into the tropics and to an area of relaxation, fun, and peace. Who would not want the jungle experience (kind of) while enjoying Florida? With gorgeous architecture, plenty of palm trees, and water features all about, you feel like you are in an oasis of fun.
One interesting feature of this hotel is the number of rooms. There are literally 1000 rooms on site. For some, this may be far too much and bring too much foot traffic. For others, this means that there are top-class amenities to take advantage of. So, depending on your preferences, this could be a pro or a con.
On that same note, there are a number of great suites available to stay in. This upgrades your stay and puts you in a great position to enjoy your time at Universal. Although it will cost extra, it will be worth it.
Hotel details
Address: 
6601 Adventure Way, Orlando, FL 32819, United States.
Guest rating:
4.5 out of 5
Price per night:
From $235
Four Seasons Orlando at Disney World
We will stop our list with one of the most well-known luxury hotels chains in the world. In fact, almost every major city in the world has one of these around. The Four Seasons is an awesome accommodation option that knows what it takes to give you a good experience. Millions of people every year come and go back to the Four Seasons because the reputation is so high.
For the Four Seasons Orlando specifically, its physical location is one that is hardly rivaled. It actually sits in a residential area within the Disney resort. This keeps things relatively quiet while also providing easy and quick access to the various parks. This location also has its own golf club and spa, so whatever tickles your fancy can be used.
One of the most awesome features of the Four Seasons Orlando is Capa. Capa is the rooftop steakhouse that has delicious meals and even better views. In fact, you can even enjoy the Disney fireworks while having a good meal many nights. What other place in the area can give you this perspective? The answer is nowhere else.
Hotel details
Address: 
10100 Dream Tree Boulevard, Lake Buena Vista, Orlando, FL 32836, United States.
Guest rating:
4.6 out of 5
Price per night:
From $800
About our luxury hotel recommendations in Orlando
We are a travel research company. Our team helps you discover the best luxury hotels in Orlando by researching the internet for you. We have also visited some of these places. Hence, it's not just our opinion, it's the opinion of many travelers who have been there before you. We make it easy for you to find out about the most luxurious and exclusive 5-star hotels in the city.
Please note, we only list hotels that have an aggregated guest review rating of at least 4.0 out of 5. We aggregate all reviews from different booking sites and other unbiased review websites. Hence, you can be certain all hotels listed above offer you a great stay in Orlando.
Best price guarantee
We partner with Hotels.com and Booking.com to make sure you get the best price for your stay in Orlando! Both sites offer price matching. That means you pay the lowest prices for your stay. If you find a cheaper offer on another website for the same luxury hotel in Orlando at least 24 hours before check-in, contact them to claim a refund of the difference!
Top 3 luxury hotels in Orlando
Now that you've gone over this guide, let's summarize it. We got to know what the best 5-star hotels in Orlando are thanks to thousands of guest reviews and tips from travel experts:
More Orlando guides
If you like the advice we've given you above, make sure to check out some of our other articles about Orlando: