Although the United States is considered a fairly young country compared to other countries, it still has a deep, rich history that takes on a number of different aspects. One of the main historical aspects is independence from Britain. Although there are a few cities that relate to these events, Philadelphia is one of the best to experience the history of the area.
On top of that, there is excellent food, a number of professional sports teams, and so much more. With a plethora of things to do, every traveler should find themselves in Philly at some point along their journey.
A great way to take in the city for everything that it is by staying in a luxury hotel. This puts you in the best position possible to have a good time.
Here are three of the best luxury hotels located in Philadelphia!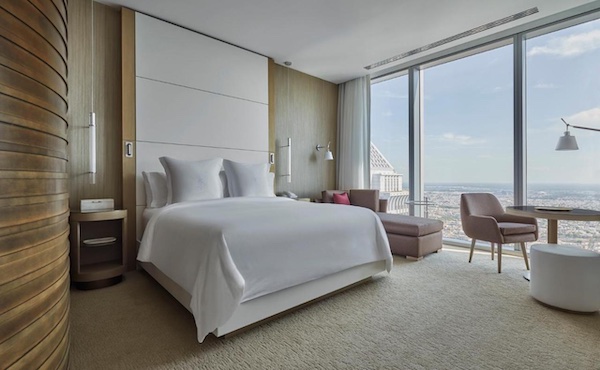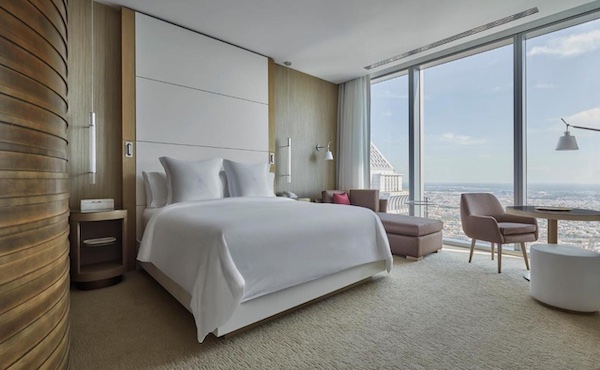 Four Seasons Hotel Philadelphia
Although independently owned hotels can offer some excellent experiences, sometimes you want to stick to the top chains that have a world-renowned reputation for delivering quality. The latter comes with staying at the Four Seasons Hotel Philadelphia. Just about every big city in the world has a Four Seasons, so you know you are in a great position to enjoy yourself here.
This hotel is a unique experience because it is actually one of the highest hotels in the United States and North America at large. This brand takes hold of the 48th through 56th floors of the Comcast Center in Philadelphia. There are just over 200 rooms packed into this area, so you are in for a really interesting stay.
Now, on the 57th floor, there is an awesome infinity pool that looks out over the city. This is an awesome place to relax and take a load off after a busy day. Speaking of relaxing, there is also a spa on the same floor that offers full treatments.
In the Comcast Center, there are two restaurants that are managed by the hotel. This provides a couple of great options to get food without having to go too far.
Hotel details
Address: 
One North 19th St, Philadelphia, PA 19103, United States of America.
Guest rating:
4.8 out of 5
Price per night:
From $700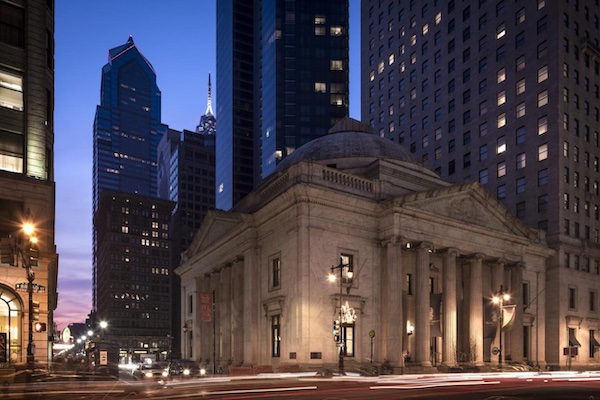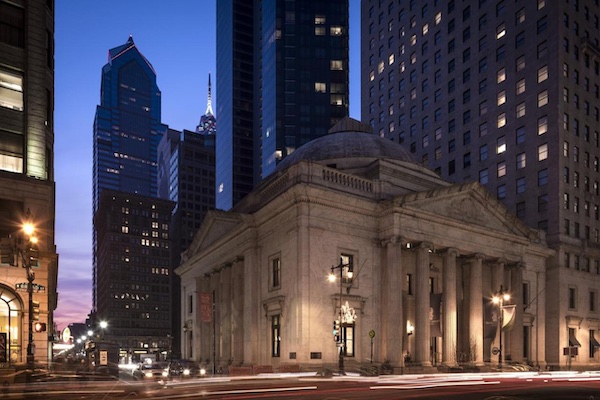 The Ritz-Carlton Philadelphia
Similar to the Four Seasons, the Ritz-Carlton is a high-end luxury hotel chain that knows how to give you an excellent stay. By staying at the Ritz-Carlton Philadelphia, you know you will get all of your money's worth.
From the moment you walk in, you realize why the Ritz is so famous all across the globe. The stunning, high walls paired with marble and lush carpet will make you feel super special.
With just under 300 rooms, it is toward the higher end in terms of capacity, but this also gives you more opportunities to engage in the amenities. Speaking of those amenities, there are a few great features that are right on-site at the Ritz.
First off, there is an awesome, contemporary restaurant that gives you some great menu options without having to even leave the restaurant. This is a fine-dining option that will put you in a great spot to enjoy yourself.
There is also a bar, spa, and beauty salon in the hotel itself. As you can see, giving you plenty of options for relaxation is a nice perk that comes along with staying at this location.
Hotel details
Address: 
Ten Avenue of the Arts, Philadelphia, PA 19102, United States of America.
Guest rating:
4.1 out of 5
Price per night:
From $240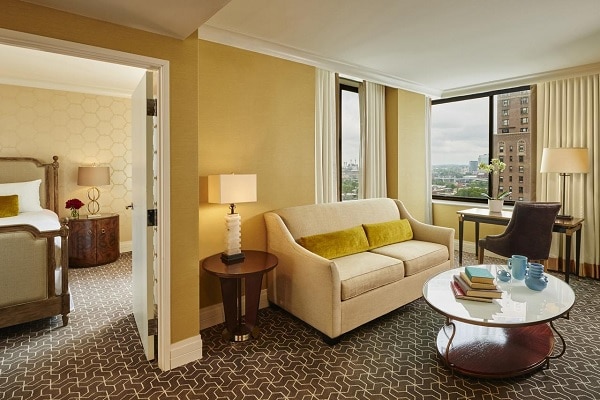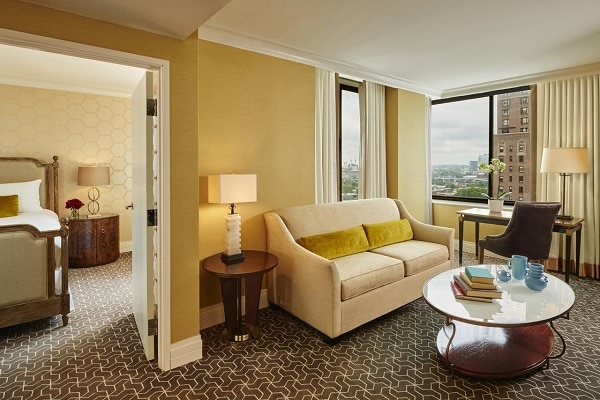 The Rittenhouse Hotel
We will round out our list with the smallest luxury hotel. The Rittenhouse Hotel is an awesome spot that delivers quality and luxury very clearly. There are just 116 rooms, so the crowds within the property will be lessened, which is a great perk. If you do not want too many people milling about, this should be a top option for you. In fact, this hotel has some of the largest hotel rooms for the price in the entire city.
The physical location should also be considered because you want to be in an awesome area. This hotel overlooks Rittenhouse Square, which is an awesome place to explore and take in Philly. Being close to a hotspot like this is a great perk itself.
In terms of cuisine, there is the Lacroix restaurant that is rated as the second-best restaurant in the entire city. Having something like this right on site is a huge perk that comes along with the stay. Overall, the Rittenhouse Hotel is one that packs a serious punch in terms of luxury. You know that you are going to get a high-quality stay when booking a room here.
Hotel details
Address: 
210 W Rittenhouse Square, Philadelphia, PA 19103, USA.
Guest rating:
4.7 out of 5
Price per night:
From $330
About our luxury hotel recommendations in Philadelphia
We are a travel research company. Our team helps you discover the best luxury hotels in Philadelphia by researching the internet for you. We have also visited some of these places. Hence, it's not just our opinion, it's the opinion of many travelers who have been there before you. We make it easy for you to find out about the most luxurious and exclusive 5-star hotels in the city.
Please note, we only list hotels that have an aggregated guest review rating of at least 4.0 out of 5. We aggregate all reviews from different booking sites and other unbiased review websites. Hence, you can be certain all hotels listed above offer you a great stay in Philadelphia.
Best price guarantee
We partner with Hotels.com and Booking.com to make sure you get the best price for your stay in Philadelphia! Both sites offer price matching. That means you pay the lowest prices for your stay. If you find a cheaper offer on another website for the same luxury hotel in Philadelphia at least 24 hours before check-in, contact them to claim a refund of the difference!
Top 3 luxury hotels in Philadelphia
Now that you've gone over this guide, let's summarize it. We got to know what the best 5-star hotels in Philadelphia are thanks to thousands of guest reviews and tips from travel experts:
More Philadelphia guides
If you like the advice we've given you above, make sure to check out some of our other articles about Philadelphia:
Best cheap hotels in Philadelphia