Mumbai, located on India's west coast, is the second most populated city in the country. Known as the "city of dreams," this cosmopolitan metropolis never sleeps. It is the heart of many thriving industries in India, including fashion, commerce, and Bollywood.
Visitors have no shortage of things to see and do here. Mumbai is a city that blends old and new, traditional and modern. If you love history, culture, architecture, or food, you're in for a treat.
There are three UNESCO World Heritage Sites in Mumbai: Chhatrapati Shivaji Maharaj Terminus, Elephanta Caves, and Art Deco and Victorian architecture. Visitors can explore Mumbai's many districts and neighborhoods and see fantastic street art, eat flavorful food, and get a sense of the city's lifestyle.
The city has many hostels where you can stay to see all of the city's best sights. Here are the five best Mumbai hostels where you can stay.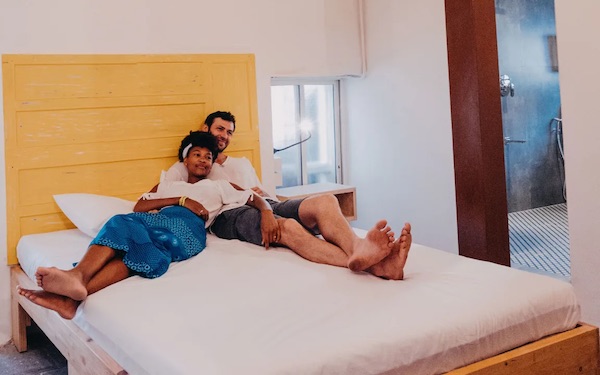 Horn Ok Please Hostel
Horn Ok Please is a hostel located in the heart of the Bandra neighborhood. Bandra is an excellent location for a dive into local life in one of Mumbai's trendiest neighborhoods. Walking the streets, you can find historic 17th-century buildings next to chic cafés and restaurants.
This updated hostel is in a charming 100-year-old colonial-style house. They have mixed and female-only dorms or double or private rooms. Each room has extra-long beds (which can be challenging to find in the area).
The hostel serves up a complimentary breakfast for guests each morning and free tea and coffee. Amenities include warm showers, books and board games, and laundry services.
Guests love this hostel's social atmosphere, friendly staff, and an exciting location.
Hostel details
Address:
6 Florentin Street, Mumbai, India.
Guest rating:
4.7 out of 5.
Price per night:
from $10.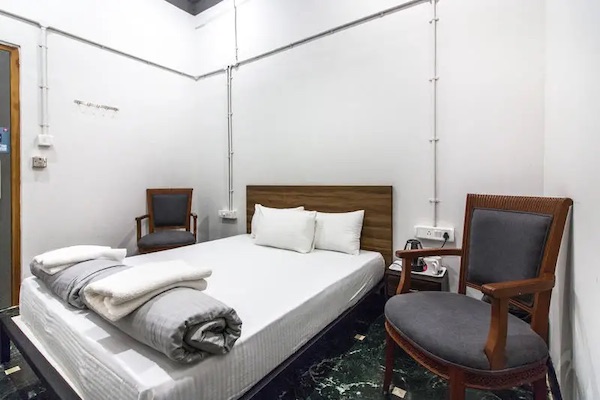 Backpacker Panda Colaba
You can find the Backpacker Panda Colaba hostel in the heart of Mumbai's tourist district. Colaba has some of the city's most famous sights, including the Gateway of India, Colaba Causeway, Jehangir Art Gallery, and Leopold Café. Guests are within walking distance to some of the city's best restaurants, sights, and cultural events.
The historic building has a unique blend of minimalistic and artistic decor. There are mixed-bed dorms and female-only dorms with en suite bathrooms as well as private bedrooms. Guests can enjoy the beautiful rooftop terrace and a communal kitchen. Security is no issue here because the building has keycard access and 24-hour security.
The hostel's high ratings come from its prime location, delicious breakfast, and comfortable rooms.
Hostel details
Address: 
15, Walton Road, Colaba, Mumbai, India.
Guest rating:
4.4 out of 5.
Price per night:
from $8.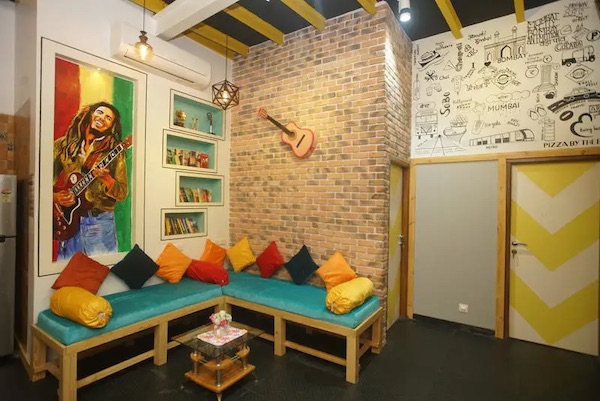 Mumbai Staytion
Located in Andheri, Mumbai Staytion is near one of Mumbai's busiest train stations, Andheri Railway Station. It is only about 1.5 miles away from the airport and 0.3 miles away from the metro. Within a 20-minute drive, you can explore the Phoenix and R City Malls and the Bandra World Sea Link.
The Mumbai Staytion hostel is cozy with a retro feel. Its five mixed or female-only dorm-style rooms can house up to 38 people. The hostel is ideal for backpackers looking for a place with good value. It has all of the necessary amenities, including a lounge, security lockers, 24-hour reception, and laundry facilities.
Guests are happy with the hostel's proximity to the airport, friendly staff, and value.
Hostel details
Address:
Leena Kunj, Near Hotel Sadguru, Takpada Marol Naka, Makwana Road, Mumbai, India.
Guest rating:
4.8 out of 5.
Price per night:
from $8.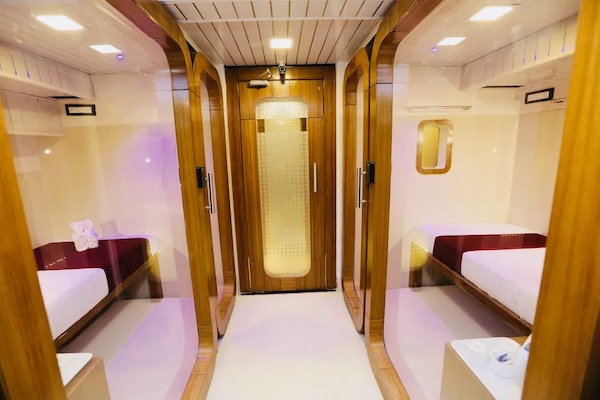 Qubestay Airport Capsule Hotel and Hostel
The Quebestay Airport Capsule Hotel and Hostel has a convenient location near the airport. It is within walking distance of the Sakinaka Metro Station, which will take you all over town. Nearby points of interest include Powai Lake, IIT Bombay, and Hiranandani Business Park.
This hostel offers luxury on a budget with sleek interiors and an outdoor garden. Visitors can stay in a variety of different capsules and bunk beds. There are male and female-only rooms or mixed dorms.
Included in your stay are a complimentary breakfast, TV room, digital security, meeting room, and workspace. For a bite to eat, the hostel has a mini-kitchen and cafeteria.
Visitors love it's near the airport, has excellent public transportation, and friendly staff.
Hostel details
Address:
Arma Residency, Opposite Crescent Business Square, Next to Gundecha Onclave, Kherani Road Sakinaka, Mumbai, India.
Guest rating:
4.5 out of 5.
Price per night:
from $5.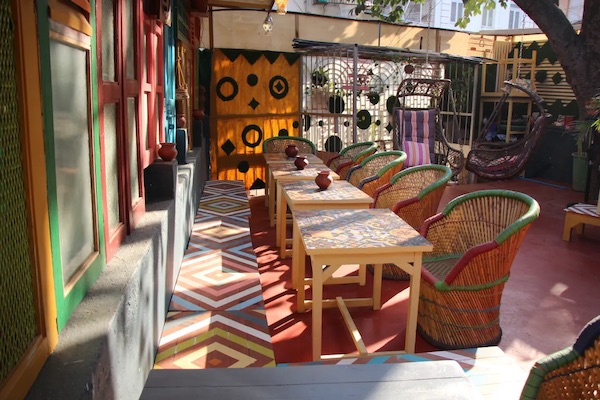 Namastey Mumbai Backpackers
Located in a residential village called Pali Village in Bandra, the Namastey Mumbai Backpackers hostel is in one of Mumbai's poshest neighborhoods. You might encounter some Indian celebrities at one of the many pubs, restaurants, and shopping centers in the area. The boardwalk is only five minutes away, and there is street food at its doorstep.
The hostel is a 100-year-old Portuguese cottage with eclectic decor. Guests can choose from three different dorm rooms, with 26 beds and shared bathrooms. Amenities in each dorm room include air conditioning, a toaster, a kettle, a microwave, and a wardrobe. Visitors can socialize in a lovely open-air garden and terrace.
Its fun neighborhood, excellent breakfast, and enjoyable facilities impress guests who stay there.
Hostel details
Address: 
Panjwani Cottage, 76 Pali Village, Pali Naka, behind Janta Bar, Bandra West, Mumbai, India.
Guest rating:
4.7 out of 5.
Price per night:
from $10.
About our Mumbai hostel recommendations
Are you a solo traveler looking for a private room? Or a backpacker traveling around in a group wanting to stay in a cheap and cozy dorm? Above you will find the best hostels in Mumbai for all your needs.
Please note, we only list hostels that have an aggregated guest review rating of at least 4.0 out of 5. We aggregate all reviews from different booking sites and other unbiased review websites. Hence, you can be certain all hostels listed above offer an excellent value-for-money stay in Mumbai.
Best price guarantee
For our hostel recommendations, we work together with Hostelworld and Booking. These partnerships don't have any influence on the recommendations we make or on the order in which our recommended hostels are listed.
The reason why we have chosen to partner with these companies is that they're trustworthy, offer excellent service and both apply the best price guarantee. This means you can claim a refund for the difference if you find your reservation cheaper on another website.
It has to be for the same property, accommodation type, dates, cancellation policy and conditions, otherwise, you can't claim the refund for the difference. If you book through Booking.com then all you need to do is contact them at least 24 hours before your check-in date.
If you book through Hostelworld you must claim the refund within 24 hours after you made the booking.
Top 5 hostels in Mumbai
To summarize again, based on thousands of guest reviews, these are the best hostels in Mumbai:
Why you should be careful when booking the cheapest hostel available
The cheapest hostels available are typically not in a great location. If you want to go sightseeing or go for a night out in central Mumbai, you probably end up having to pay for public transport or a taxi to get there.
So your stay could end up being more expensive compared to a stay in a central location. For first-time travelers, we recommend staying central anyway, but also for frequent visitors, it's probably worth it to pay a bit more to stay in a central location.
Another reason why you shouldn't stay at the cheapest hostel is that the people staying at the cheapest hostels are often not the people that can afford to travel like you.
Because a very cheap hostel is often cheaper than renting a flat, these places tend to attract migrant workers or local misfits. That's probably not the crowd you want to hang out with, especially if you're a solo traveler looking for friends.
The third reason why you should avoid the cheapest hostels is safety. Some of the cheapest hostels don't check IDs, don't ask for signatures, or only accept cash at check-in. The hostel won't know who is actually staying there.
Lastly, the service at these hostels isn't great. For instance, if you choose to store your luggage, your bags will be unattended in a public space. It won't be recorded anywhere or tagged and stored in a locked room.
So, it's probably worth it to spend a bit more on your hostel stay in Mumbai.
And finally, a tip: always read the latest reviews of the hostel! All places have good and bad reviews, but the most recent reviews matter the most.
More Mumbai tips
Get to know the city even better and check out our other articles about Mumbai:
Best boutique hotels in Mumbai