In recent years, the tourism scene in Asia has exploded. Especially in certain places, people from the West and all over are flocking to visit the beaches, jungles, and big cities that come along with the ride.
One of the gems within this category is Malaysia. With almost 3000 miles of coastline, there is so much to see and do in this country. This rustic, classic part of the country is balanced by big cities and skyscraping scenes.
The area that has a unique balance of all the highlights, is Kuala Lumpur. This is an awesome city that brings the heat for any visitor. Now, one of the greatest ways to experience the city is in a luxury hotel. This will elevate your stay to a fantastic level.
Here are three of the best luxury hotels located in Kuala Lumpur!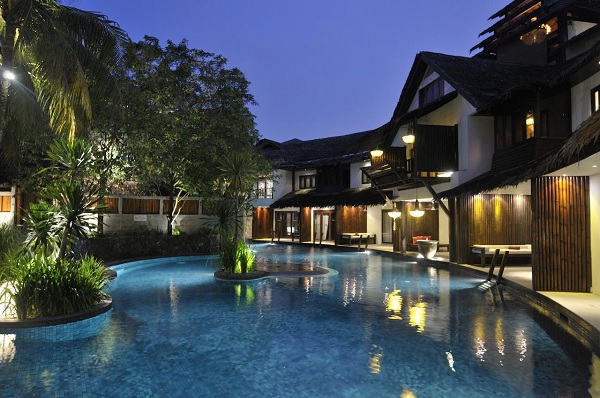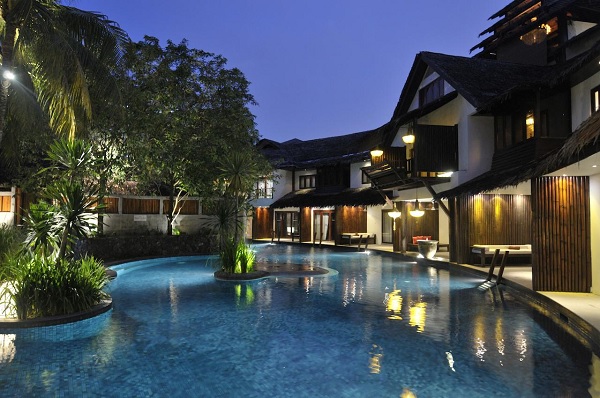 Villa Samadhi
To kick off our list, we have the Villa Samadhi Kuala Lumpur. The entire vibe of this hotel is to take you away from the hustle and bustle of the city and transport you into an area of bliss. Because the name means "state of mind" in Sanskrit, you will understand that meaning right away. This is an oasis among madness to escape to if the city scene gets to be a bit too much.
With only 21 rooms, you are really getting a personable experience that delivers incredible quality. Of those 21 rooms, 10 are upgraded suites. So, if you can afford a bit more allocated to the stay, the option is there for the taking.
There is also a gorgeous pool that is surrounded by jungle-like gardens and beautiful scenery. This is a huge perk itself because pools of this caliber cannot be found at every spot out there.
There is also a great restaurant and bar on the premises. Although venturing out and finding great local food is a must when in Kuala Lumpur, it is a nice little touch to have some options right at the hotel in case you need to do something quickly.
Hotel details
Address: 
8, Jalan Madge, Taman U Thant, 55000 Kuala Lumpur, Wilayah Persekutuan Kuala Lumpur, Malaysia.
Guest rating:
4.6 out of 5
Price per night:
From $170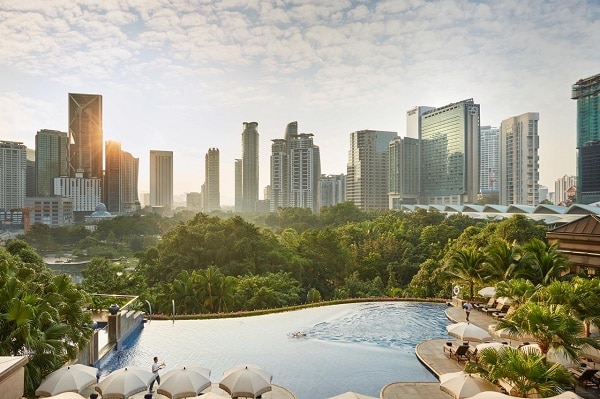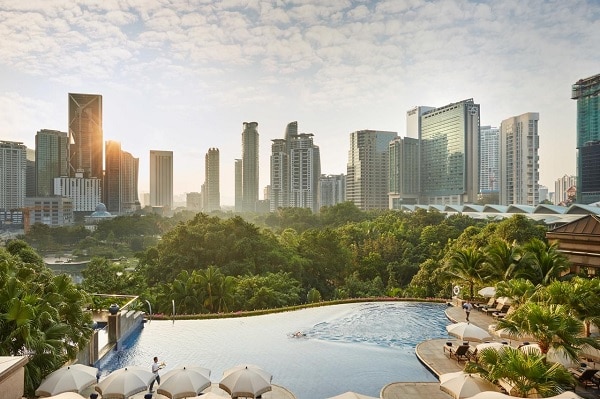 Mandarin Oriental Kuala Lumpur
By a large margin, the Mandarin Oriental Kuala Lumpur is much bigger than some of the other luxury options available. With over 600 rooms, there is a lot going on at this location. Now, if you do not mind that extra business, this is a fantastic option. If you are not a fan of so much hustle and bustle in the hotel, you may want to consider a different accommodation.
Now, the Mandarin Oriental is a luxury hotel chain, and the Kuala Lumpur location is both large and in charge of attention. Staying at this mega hotel is a great experience in and of itself, so keep that in mind.
When there are so many rooms, there are some new and updated features and perks that really shine bright. On the dining side, there are five restaurants on the hotel's property. Anything smaller could never harbor so many options, so this is a big perk. Everything from continental to sushi to Italian food options is on the table.
There is also an indoor golf simulator, business center, full spa, pool, and so much more. When booking a room at the Mandarin Oriental, you know you are going to get the best value out of your stay possible.
Hotel details
Address: 
Kuala Lumpur City Centre, 50088 Kuala Lumpur, Malaysia.
Guest rating:
4.6 out of 5
Price per night:
From $142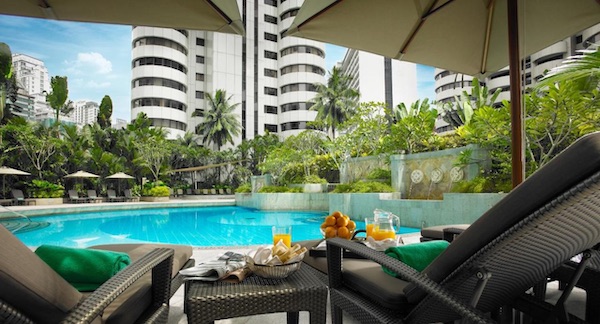 Shangri-La Kuala Lumpur
The last option on our shortlist is the Shangri-La Kuala Lumpur. Similar to the Mandarin Oriental, this is a very large location that has over 650 rooms. As we have already talked about, staying in a larger location has its pros and cons, so consider those for this location as well.
Over the 660, or so, rooms, over 100 of them are suites. So, the option to make a really cool upgrade is well worth it and available. If your budget allows, grabbing a suite will give you a bigger room and potentially a better experience.
Because so many people are packed in, the hotel can afford to bring you a plethora of add-ons. Some include a fitness center, a full spa with treatments available, pool, and some other great options.
There are also some great restaurants on the premises to enjoy. Although going out into the city and enjoying all of the local options is a must, it is still nice to have some options right downstairs. So, if you need a quick bite to eat or a delicious cocktail, the options are there.
Hotel details
Address: 
11 Jalan Sultan Ismail, 50250 Kuala Lumpur, Malaysia.
Guest rating:
4.5 out of 5
Price per night:
From $70
About our luxury hotel recommendations in Kuala Lumpur
We are a travel research company. Our team helps you discover the best luxury hotels in Kuala Lumpur by researching the internet for you. We have also visited some of these places. Hence, it's not just our opinion, it's the opinion of many travelers who have been there before you. We make it easy for you to find out about the most luxurious and exclusive 5-star hotels in the city.
Please note, we only list hotels that have an aggregated guest review rating of at least 4.0 out of 5. We aggregate all reviews from different booking sites and other unbiased review websites. Hence, you can be certain all hotels listed above offer you a great stay in Kuala Lumpur.
Best price guarantee
We partner with Hotels.com and Booking.com to make sure you get the best price for your stay in Kuala Lumpur! Both sites offer price matching. That means you pay the lowest prices for your stay. If you find a cheaper offer on another website for the same luxury hotel in Kuala Lumpur at least 24 hours before check-in, contact them to claim a refund of the difference!
Top 3 luxury hotels in Kuala Lumpur
Now that you've gone over this guide, let's summarize it. We got to know what the best 5-star hotels in Kuala Lumpur are thanks to thousands of guest reviews and tips from travel experts:
More Kuala Lumpur guides
If you like the advice we've given you above, make sure to check out some of our other articles about Kuala Lumpur:
Best boutique hotels in Kuala Lumpur