Although not traditionally known for its great tourism or business opportunities, Baltimore, Maryland is experiencing a rebirth in industry and visitations. This means that the accommodations are being updated and made to fit the modern era. So, Baltimore is increasingly becoming a place to experience.
With Camden Yards, access to the ocean, and so much more, there is a lot to unpack in Baltimore. However, whenever staying on the east coast, price tags for your basic accommodations can be high. If you need to save some money, one area that is worth shaving down is your hotel.
We will be talking about the best cheap hotels in the city. When you can save some money on your hotel room, you can allocate those funds to something else.
Here are the three best cheap hotels in Baltimore!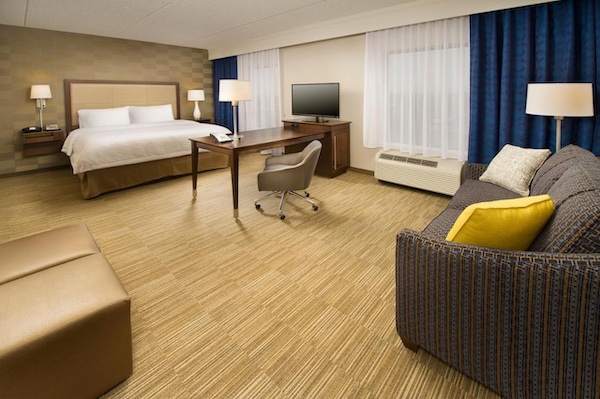 Hampton Inn & Suites Baltimore/Woodlawn
The Hampton Inn is a popular budget chain that is in just about every big city, and a ton of small cities, across the country. Staying here provides a nice hotel room, and that is about it. After all, if you are in the business of saving money, that is usually all you need. The Hampton Inn Baltimore/Woodlawn location does just that and puts you a little outside of the main city.
If you are okay with being a few miles from the hotspots, then this location is there to save you some money. If not, you may need to find a hotel that is closer to the center of the city.
As the name of the hotel implies, there are normal rooms as well as suites. If you have some extra cash you would like to spend, you can upgrade to a suite to have much more room and some better accommodations. If not, the simple and double rooms are still really good and keep costs low.
There is even an indoor pool at this location. So, there is a fair amount of value-added to your stay outside of the rooms themselves. This is paired with a fitness center, in-room amenities, and more.
Hotel details
Address: 
1810 Belmont Avenue, Baltimore, MD 21244, United States of America.
Guest rating:
4.1 out of 5
Price per night:
From $78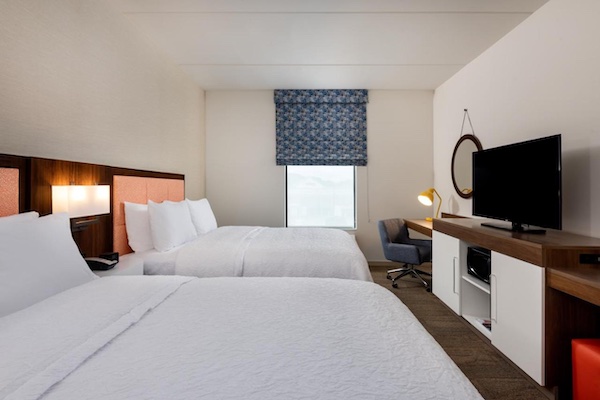 Hampton Inn Baltimore Bayview
Like we previously mentioned, the Hampton Inn is a top budget choice for so many travelers. So, The Hampton Inn Baltimore Bayview location is another one worth noting. This is a fairly new hotel that brings really good value if you are just in town for a couple of days.
It is fairly close to some top spots, but you will still be a few miles away from the big ones. This is a reason why you can save so much money. So, if you are okay with paying some fees in regards to short travel, you are good to go. Some top areas that are within five miles of this hotel are the Korean War Memorial, The Walters Art Museum, Lexington Market, and more.
Like the Hampton above, there are the normal rooms and a King Suite upgradable option. If you do need a bit more room, there you go.
In terms of other aspects of the hotel, there are a few amenities worth mentioning. Every room is simple but also outfitted with a nice RV, fridge, and a nice bathroom. There is also an indoor swimming pool, free parking, and a few other nice add-ons.
Hotel details
Address: 
6571 Eastern Avenue, Baltimore, MD 21224, United States of America.
Guest rating:
4.5 out of 5
Price per night:
From $88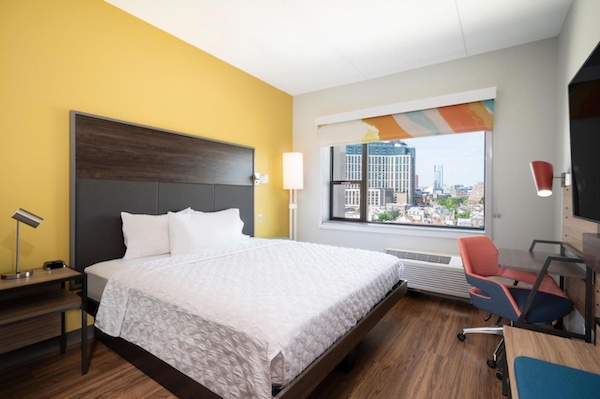 Tru by Hilton Baltimore Harbor East
Hilton is yet another really nice chain that has a worldwide reputation for bringing quality. Some of Hilton's lines are quite affordable. In this case, Tru is one of those budget hotels that does not have a high price tag.
The Tru Baltimore Harbor East location puts you so close to some really cool areas. These include the Harbor East Marina, the Baltimore Civil War Museum, Maritime Park, and a lot more. Some budget hotels have to sacrifice location in the name of price. This is one option that gives you the best of both worlds.
At the hotel itself, it is much like the other two already mentioned. It is a modern hotel that has all of the new upgrades you may need. Those simple luxuries that elevate your stay without elevating the price tag are there. These include upgraded bathrooms, great lobbies, and excellent customer service.
Overall, the Tru by Hilton at the Baltimore Harbor East is the best cheap hotel in the city in terms of physical location. If you do not want to travel far to experience much of the culture, this should be the top choice.
Hotel details
Address: 
411 S Central Avenue, Little Italy, Baltimore, MD 21202, United States of America.
Guest rating:
4.3 out of 5
Price per night:
From $85
About our budget hotel recommendations in Baltimore
We are a travel research company. Our team helps you discover the best cheap hotels in Baltimore by researching the internet for you. We have also visited some of these places. Hence, it's not just our opinion, it's the opinion of thousands of travelers who have been there before you. We make it easy for you to find out about the best budget hotels in the city.
Please note, we only list hotels that have an aggregated guest review rating of at least 4.0 out of 5. We aggregate all reviews from different booking sites and other unbiased review websites. Any hotel listed here should have a price of $100 or less per night. Hence, you can be certain all hotels listed above offer you a great and affordable stay in Baltimore.
Lowest price guarantee
We partner with Booking.com and Hotels.com. Both booking websites offer the lowest price guarantee so you can be certain you will always get the best deal for the hotels above. If you have seen a better price elsewhere, all you need to do is contact the booking website and they will refund you the difference immediately. You can price match right up until the day before check-in.
We also recommend you read our guide about how to save money on hotel bookings. It's a list of tips about when you should book a hotel, what tools you can use, and other things you can do to find your preferred hotel at an affordable price.
Top 3 budget hotels in Baltimore
Let's summarize this affordable travel guide. Based on thousands of guest reviews, these are the best budget hotels in Baltimore:
More Baltimore guides
Get to know the city even better by reading our other articles about Baltimore:
Best luxury hotels in Baltimore