Sydney is an iconic destination on the southeastern coast of Australia. There are plentiful options when it comes to activities in Sydney, and many pleasant hostels in the area to rest up at after lots of adventures.
Sydney is without a doubt one of the best regions of Australia you could ever visit, as it has some of the world's best beaches, snorkeling opportunities, and museums and galleries you can find. Be sure to check out the iconic Sydney Opera House while you are visiting, and spend some time ambling along the Sydney Harbour during a breathtaking sunset. The Sydney Aquarium is always a great pastime for those super hot days, too.
If you are a lover of nature, you will not want to miss out on the lovely Royal Botanic Garden Sydney. This botanical garden is a dream escape for any individual that adores all experiencing and learning about all different types of foliage. Take some time to explore all of the upbeat nightlife that consumes the city of Sydney when the sun goes down, or spend some days lazing in the sun on the stunning beaches nearby.
Today will give you some information regarding some of the best hostels available in Sydney.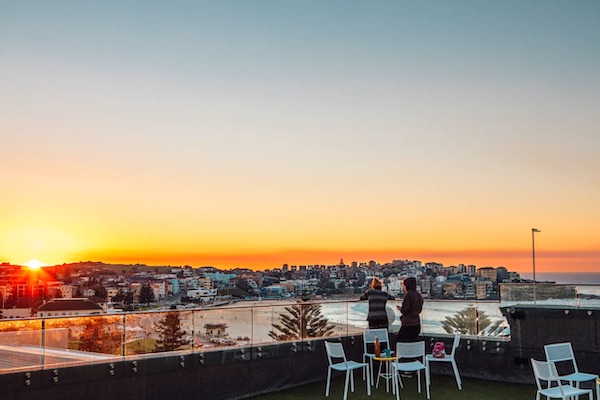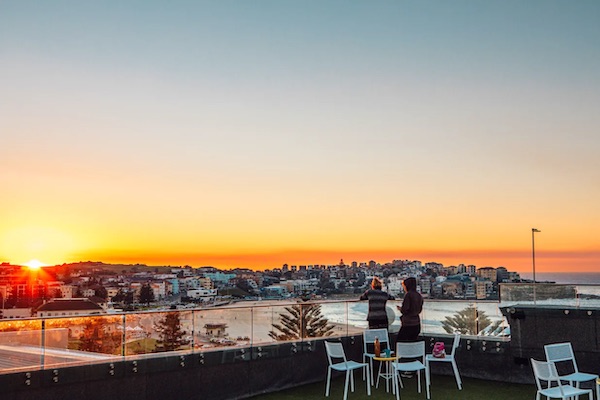 Wake Up! Bondi Beach
Wake Up! Bondi Beach is a hostel that is in close proximity to the wonderful Bondi Beach. Bondi Beach is known for its surf, so this hostel might be the right choice for you if surfing is up your alley. There is a newly fixed-up rooftop area that is open for guests to lounge on, and there are laundry facilities and a kitchen available for guests, as well.
The rooms at Wake Up! Bondi Beach vary from mixed or private rooms that have either twin or double-sized beds. Some of the rooms have windows that overlook Bondi Beach, too. Each room style regardless of it being private or shared comes with security lockers for an extra level of safety.
Hostel details
Address:
110 Campbell Parade, Bondi Beach, Sydney, Australia.
Guest rating:
4.7 out of 5.
Price per night:
from $30.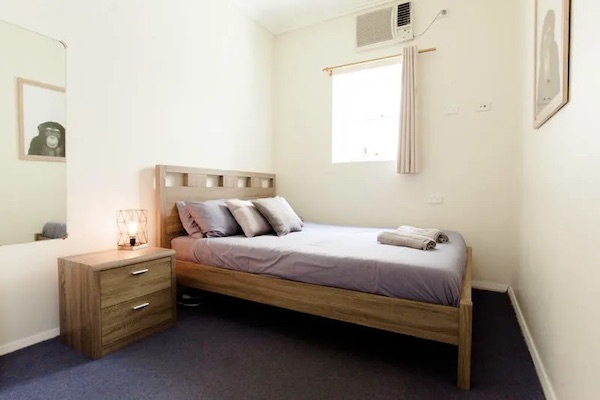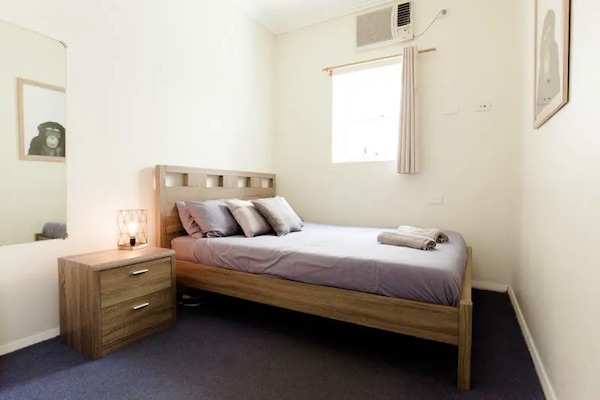 Mad Monkey on Broadway
The Mad Monkey on Broadway is great if you are an active individual, as they provide yoga classes, a free pass to a nearby gym, and you can rent a bike for getting around from the Mad Monkey. This hostel also provides a free breakfast that will come in handy when you are on the go, and there is a full kitchen facility available for guests.
The Mad Monkey on Broadway boasts female and mixed dorms, as well as private rooms. Every room style has its own bathroom, and lockers are available for all guests that wish to have an extra level of security with their belongings. Central Station is also just a quick walk away from the Mad Monkey, so getting around Sydney is made easy.
Hostel details
Address:
20 City Rd, Sydney, Australia.
Guest rating:
4.5 out of 5.
Price per night:
from $13.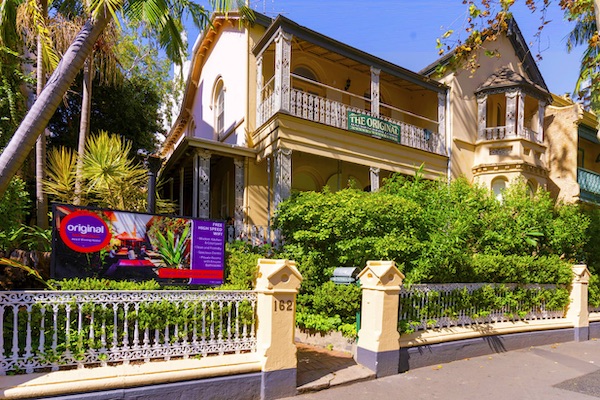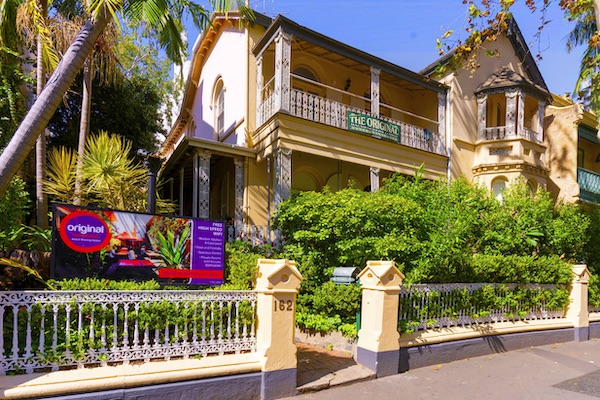 The Original Backpackers Hostel
At The Original Backpackers Hostel, you will receive the benefit of being in close proximity to one of the main train stations in Sydney, Kings Cross Station. The Sydney Opera House is only a 30-minute walk away, as well. This hostel offers a full kitchen, a spacious courtyard, and plenty of other entertainment with the lounge, tv, board game, and cards set up.
The Original Backpackers Hostel has private rooms that consist of both double and twin beds, and the shared rooms are either female-only or mixed. The communal rooms all come with privacy curtains with beds and lockers to keep your things in. If you opt for a private room, your space will be complete with a TV and mini-fridge, too.
Hostel details
Address:
162 Victoria Street, Kings Cross, Sydney, Australia.
Guest rating:
4.4 out of 5.
Price per night:
from $17.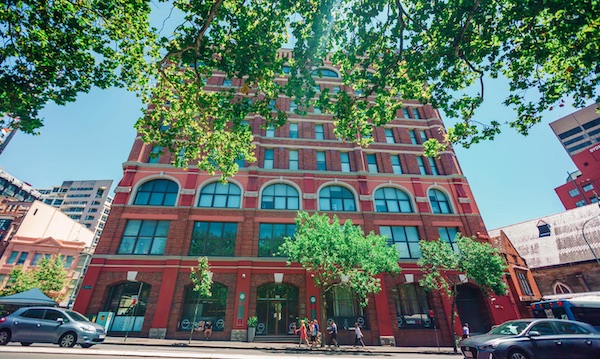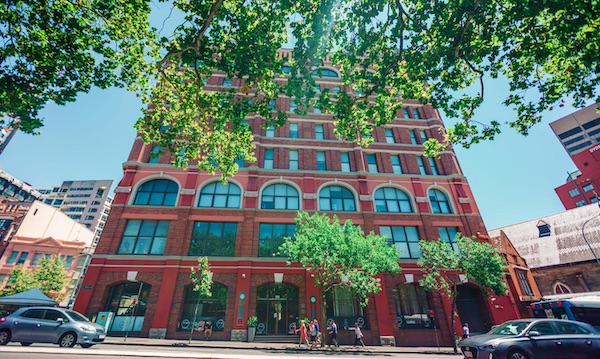 Wake Up! Sydney Central
Up next is Wake Up! Sydney Central, which is located in the heart of Sydney and right nearby Central Station. You will be able to keep active while staying at Wake Up! Sydney Central due to the yoga and other fitness classes they put on here. This hostel also hosts wine and cheese tastings, so this might be an easy way to make some new friends.
You can decide to book either a private room or a shared room that can either be mixed or female-only. You can count on there being security lockers in the rooms and fresh bed linens provided to you. If you are a nighttime reader, there are book lights installed in the bunks, as well.
Hostel details
Address:
509 Pitt Street, Opposite Central Railway, Sydney, Australia.
Guest rating:
4.7 out of 5.
Price per night:
from $27.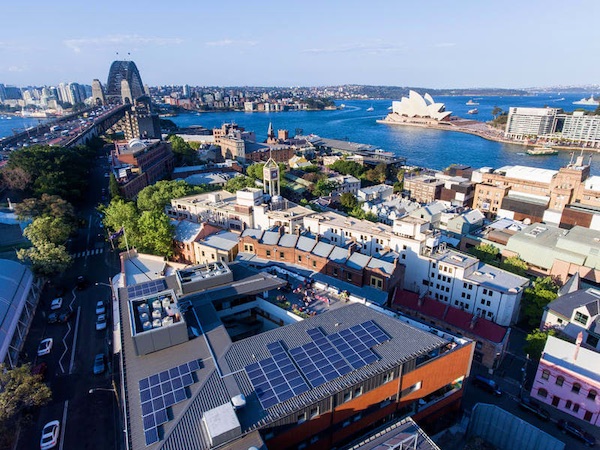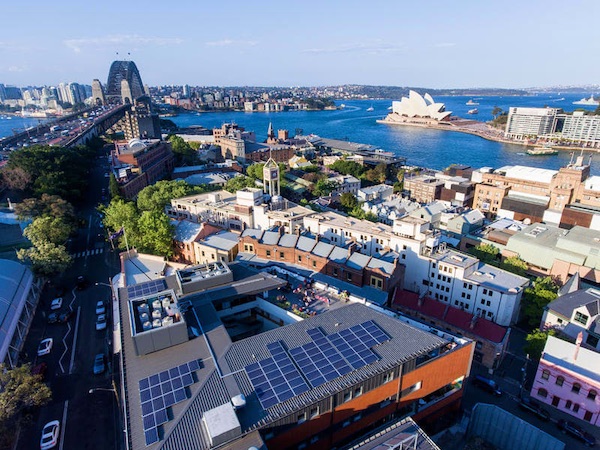 Sydney Harbour YHA
The last slot on our list goes to Sydney Harbour YHA, which is a clean and cozy space located very conveniently in Sydney. You can easily see stunning views of the Sydney Harbour and Opera House from this hostel, which is highly appreciated by guests. You can make use of the kitchen facility, coffee bar, and rooftop lounge during your stay here, too.
If you are traveling with your family or with several friends, there are private rooms within Sydney Harbour YHA that can accommodate parties of 5 guests. The shared rooms are male-only, female-only, or mixed, so you indeed have a wide range of options. This hostel even has a mini supermarket attached to it, so this can certainly come in handy if you are cooking and realized you have forgotten an important ingredient!
Hostel details
Address:
110 Cumberland St, The Rocks, Sydney, Australia.
Guest rating:
4.5 out of 5.
Price per night:
from $29.
This concludes our list of 5 of the very best hostels you can find throughout Sydney, Australia. You will undoubtedly create unforgettable memories here and make unforgettable friendships.
About our Sydney hostel recommendations
Are you a solo traveler looking for a private room? Or a backpacker traveling around in a group wanting to stay in a cheap and cozy dorm? Above you will find the best hostels in Sydney for all your needs.
Please note, we only list hostels that have an aggregated guest review rating of at least 4.0 out of 5. We aggregate all reviews from different booking sites and other unbiased review websites. Hence, you can be certain all hostels listed above offer an excellent value-for-money stay in Sydney.
Best price guarantee
For our hostel recommendations, we work together with Hostelworld and Booking. These partnerships don't have any influence on the recommendations we make or on the order in which our recommended hostels are listed. The reasons why we have chosen to partner with these companies is that they're trustworthy, offer excellent service and they both apply the best price guarantee. This means you can claim a refund for the difference if you find your reservation cheaper on another website. It has to be for the same property, accommodation type, dates, cancellation policy and conditions, otherwise, you can't claim the refund for the difference. If you book through Booking.com then all you need to do is contact them at least 24 hours before your check-in date. If you book through Hostelworld you must claim the refund within 24 hours after you made the booking.
Top 5 hostels in Sydney
To summarize again, based on thousands of guest reviews, these are the best hostels in Sydney:
Why you should be careful when booking the cheapest hostel available
The cheapest hostels available are typically not in a great location. If you want to go sightseeing or go for a night out in central Sydney, you probably end up having to pay for public transport or a taxi to get there. So your stay could end up being more expensive compared to a stay in a central location. For first-time travelers, we recommend staying central anyway, but also for frequent visitors, it's probably worth it to pay a bit more to stay in a central location.
Another reason why you shouldn't stay at the cheapest hostel is that the people staying at the cheapest hostels are often not the people that can afford to travel like you. Because a very cheap hostel is often cheaper than renting a flat, these places tend to attract migrant workers or local misfits. That's probably not the crowd you want to hang out with, especially if you're a solo traveler looking for friends.
The third reason why you should avoid the cheapest hostels is safety. Some of the cheapest hostels don't check IDs, don't ask for signatures, or only accept cash at check-in. The hostel won't know who is actually staying there.
Lastly, the service at these hostels isn't great. For instance, if you choose to store your luggage, your bags will be unattended in a public space. It won't be recorded anywhere or tagged and stored in a locked room.
So, it's probably worth it to spend a bit more on your hostel stay in Sydney.
And finally, a tip: always read the latest reviews of the hostel! All places have good and bad reviews, but the most recent reviews matter the most.
More Sydney tips
Get to know the city even better and check out our other articles about Sydney:
Best boutique hotels in Sydney