Welcome to the world down under! Sydney is the largest and most visited city in Australia and has grown to be the biggest diverse metropolis in the country. It's known for its glistening beaches, and luxurious yacht-studded harbor, and wraps a lot of its culture around the iconic Sydney Opera House. It's constantly evolving and is undoubtedly an unforgettable and exciting destination like no other.
The city has been ranked among the world's most sustainable places to live and promotes a vision where everyone does their part to respond effectively to the climate emergency. Most of the region is run on locally sourced clean energy generated from wind and solar farms. Sydney strives for a Green Global and Connected city by 2030, by reducing waste reduction per resident by 15% and commercialized and industrial company waste by 90%.
Due to the rise in climate change and the high demand for environmental protection, the tourism and hotel industries have done their part to promote clean and sustainable travel. Here are 5 of the greenest and most sustainable hotels in Sydney.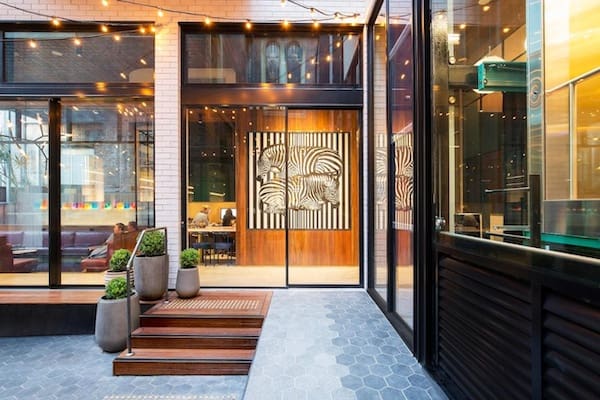 Crystalbrook Albion Hotel
The Crystalbrook Albion Hotel provides guests with a responsible, luxurious experience in the exciting city of Sydney. The hotel promotes initiatives, a stimulating environment, and a passion for fun, to create a uniquely enriching experience for all guests. Subconscious travelers who worry about the environment will be happy to know their stay allows them to travel with a light carbon footprint and an eclectic mix of heritage.
Located in Surry Hills, a former school convert, has been transformed into a modern-day boutique with a 1920s design. It is within walking distance of various points of interest, restaurants, and cafes, such as Chin Chin and Nomad. It features a rooftop garden with breathtaking views of Sydney and a bar featuring top-shelf beverages. Rooms all feature ac/heat, a flat-screen television, and a private bathroom with free toiletries, bathrobes, and slippers.
What makes Crystalbrook Albion Hotel sustainable
The Crystalbrook Albion Hotel is sustainable by allowing adventures to travel with a lighter footprint. They strive to protect the environment and provide guests with sustainability. Since its opening in 2018, the hotel has been able to reuse and recycle products and protect 3,968,676 amenity bottles and 1,450,499 plastic bottles from going to a landfill. They are partnered with Citizens of the Great Barrier Reef, Terracycle, OzHarvest, and Containers for Change.
Hotel details
Address: 
21 Little Albion Street, 2010 Sydney, Australia.
Guest rating:
4.6 out of 5
Price per night:
From $185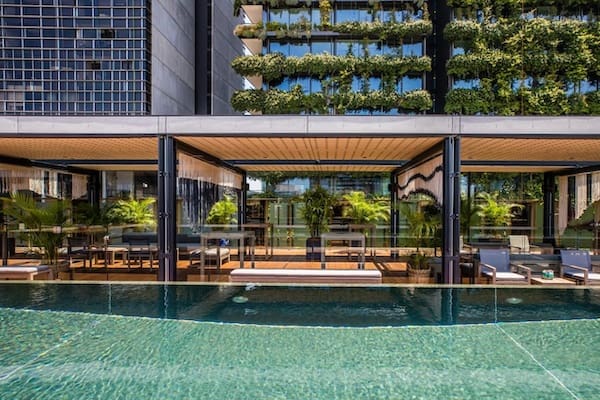 The Old Clare
The Old Clare Hotel is more than just a place to lay your head at night, but is a place designed to keep the wanderlust going. It's one of the first Australian hotels that was carefully created with curious travelers in mind. The hotel realizes that first impressions count, so they make sure you are met with friendliness and the best possible hospitality.
Located in the center of Chippendale, The Old Clare has an ideal location for all travelers looking for the best of Sydney. It sits just 2300 feet away from the Capital Theater and is within walking distance from Darling Harbour and Allianz Stadium. The hotel features an on-site bar and restaurant, bike rentals, a 24-hour desk, and personalized fitness training and yoga classes upon request. Rooms feature private bathrooms with free toiletries, flat-screen televisions, electric kettles, and comfortable bathrobes.
What makes The Old Clare sustainable
The Old Clare Hotel is sustainable by being a part of the Travel Sustainability Program. To support eco-friendliness, they have eliminated all single-use plastic products, provide recycling and waste-saving services, use water-efficient toilets, bicycle rentals, motion-controlled electricity, and use local artists' works and design services throughout the property.
Hotel details
Address: 
1 Kensington Street, Chippendale, Sydney Central Business District, 2008 Sydney, Australia.
Guest rating:
4.4 out of 5
Price per night:
From $155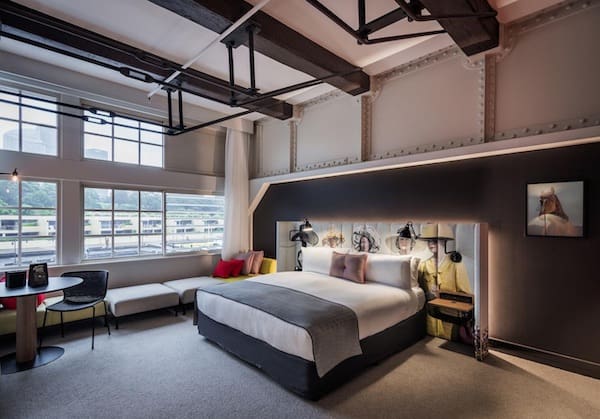 Ovolo Woolloomooloo
Ovolo Woolloomooloo is a 5-star luxury boutique hotel in the heart of Sydney. Bridging between heritage and modern luxury, guests can indulge in the rich history of the Woolloomooloo wharf complemented by contemporary designs and tech-savvy inclusions. Ovolo Woolloomooloo is a blend of unique stays with a friendly atmosphere, sustainable mindset, and relaxing location.
Located in the heart of Sydney, it offers a prime location to see some of the top sights in the city. It is close to the Sydney Botanical Gardens, Sydney Harbour, Opera House, and parklands. The property always but the quality of its service first and the opinions of guests in mind. The property features an onsite bar & lounge, fitness center, bicycle rentals, heated pool, delicious restaurant, and free daily breakfast served in-room or buffet style. Rooms come equipped with private bathrooms and amenities, soundproof walls, a stocked mini-bar, a television, a refrigerator, and a safe.
What makes Ovolo Woolloomooloo sustainable
The Ovolo Woolloomooloo is sustainable by acknowledging the Traditional Owners of the Country in which they are located, the Gadigal people of the Eora nation, and recognizing their continuing connection to land, waters, and culture. All amenities are environmentally friendly, and facility restaurants are only vegan and vegetarian.
Hotel details
Address: 
6 Cowper Wharf Roadway, Woolloomooloo, Woolloomooloo, 2011 Sydney, Australia.
Guest rating:
4.6 out of 5
Price per night:
From $195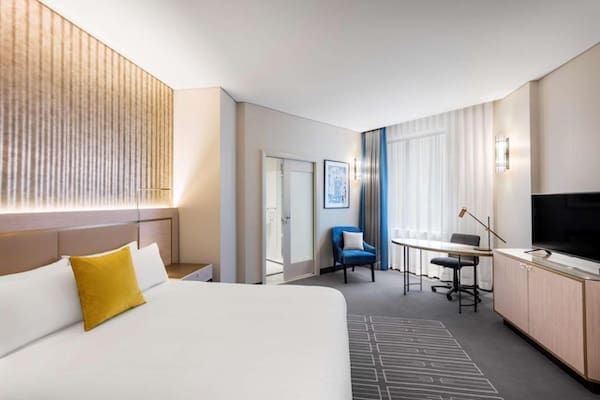 Radisson Blu Plaza
The Radisson Blu Plaza Sydney offers a luxurious and sustainable accommodation option in a prime location in Sydney. With traditional heritage architecture and a vintage sandstone facade, the Hotel offers an elegant stay, exemplary service, and modern amenities. Once home to the Fairfax newspaper empire and the prestigious Bank of New South Wales, this historical building now accommodates business travelers and vacation guests.
Located in the Central Business District of Sydney, the property is in a prime location for exploring, sightseeing, and seeing the best of the city. It is within close proximity to various restaurants and shops, and points of interest such as the Circular Quay, Museum of Contemporary Art, Harbour Bridge, and the famous Opera House. The Wynward Train station and multiple bus stops are just 2 minutes away. Radisson Blu features a daily breakfast buffet, coffee bar, award-winning restaurant and bar, fitness center, spa, and a beautiful 1900s design. Rooms have private marble bathrooms with toiletries, satellite television, and an optional bathtub and walk-in shower.
What makes Radisson Blu Sydney sustainable
The Radisson Blu Plaza is sustainable by being a part of the Travel Sustainable Program. They promote eco-friendliness by eliminating all single-use plastic products, using water-efficient toilets and showers, all windows are double-glazed, the property has 100% renewable electricity, all lighting uses LED bulbs, and food provided at the facility is locally sourced.
Hotel details
Address: 
27 O'Connell Street, Sydney Central Business District, 2000 Sydney, Australia.
Guest rating:
4.5 out of 5
Price per night:
From $187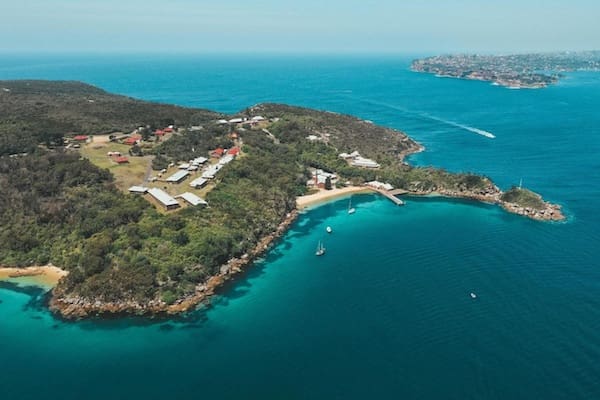 Q Station Hotel
Q Station is an iconic accommodation option in the heart of Manly. It offers a range of incredible experiences, from boutique hotel accommodations, stunning wedding venues, modern conference facilities, an amazing restaurant, and Sydney's best ghost and history tours. For those who wish to be near the city, but away from all the action and energy, Q station offers a serene escape nearby.
Located in the North Head at Manly, the hotel sits just outside the city near the Harbour National Park. There are over 70 buildings spread across 33 acres, ideal for hikers and nature lovers. There is a private shuttle on-site for transportation purposes, as well as Museum, Restaurant, and Bar, and complimentary free daily breakfast. Rooms feature private beach access, television, a refrigerator, and spacious private bathrooms.
What makes Q Station sustainable
The Q Station Hotel is sustainable by being part of the Travel Sustainable Program. The hotel strives to protect the environment by eliminating all single-use plastic products, providing water-efficient toilets and showers, using LED lighting throughout most of the facility, and having on-site green spaces like a garden or terrace.
Hotel details
Address: 
1 North Head Scenic Drive, Manly, Manly, 2095 Sydney, Australia.
Guest rating:
4.1 out of 5
Price per night:
From $112
Whether you are looking to explore the great outdoors, or indulge in the vibrant energy of the city, Sydney is an ideal option for any traveler looking for fun and adventure. We hope that you are now inspired to see just how wonderful and magical Sydney, Australia, is. Be cautious when traveling, and keep the environment in mind and review our guide for a sustainable hotel option during your next visit to Sydney!
How we select the best eco-friendly hotels in Sydney
We are a travel research company. We check a lot of details and guest reviews before making a selection. First, we check which hotels follow eco-travel principles. Are they recycling their waste? Do they work with local communities? Are they using renewable energy? Are they not using single-using plastics?
Secondly, we check guest reviews across multiple websites and only list hotels with an aggregated review rating of at least 4 out of 5. So you can be confident you will stay at an excellent eco-friendly hotel in Sydney.
Sustainable travel is the key to enjoying a responsible and meaningful trip. You can make a difference in the environment and the communities you visit with the right sustainable travel tips. From packing light to choosing eco-friendly transportation and accommodations, there are plenty of ways to reduce your environmental impact.
More Sydney recommendations
Get to know the city even better by reading our other articles about Sydney: