Wide open spaces, coolly pleasant climates, breath-taking views, luxurious accommodations, excellent tasting wine… Vineyard hotels genuinely do have the right combination of features that invite guests to relax, unwind and enjoy all the wonderful amenities that they offer. High on that list of features is the easy access to gorgeous vineyards where expert winemakers work their magic, obviously.
Some of these hotels take it up a notch though and stand out for the right reasons. Here is our list of the best, most beautiful wine hotels in the world.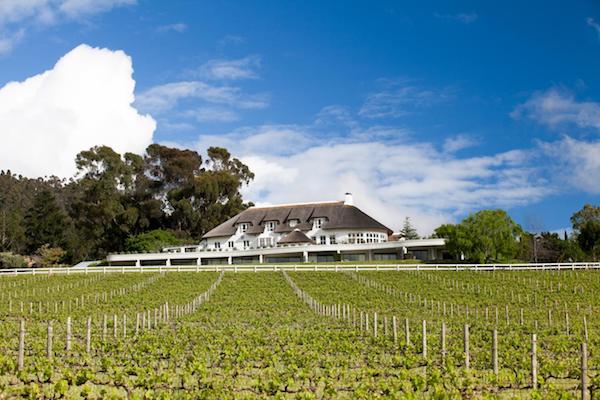 Mont Rochelle Hotel
Location: Franschhoek, South Africa
Price: from $350 per night at Booking.com
What To Expect: This valley in South Africa was named after the French Huguenots who brought their winemaking skills when they're settled there. Franschhoek is considered the food and wine capital of the country. The hotel features a homey, rustic farmhouse architecture, acres of vineyards and is only an hour's drive away from Cape Town.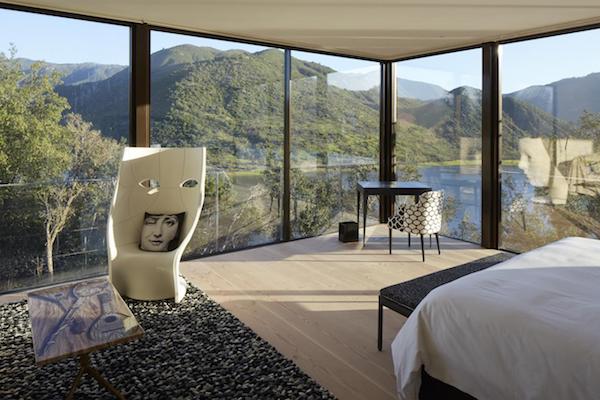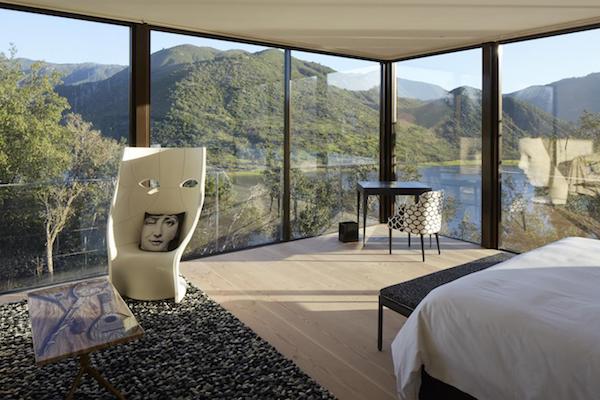 Vik Chile
Location: San Vicente de Tagua Tagua, Chile
Price: from $970 per night at Booking.com
What To Expect: The 22-room hotel sits on over an acre of a vineyard and features artwork from the impressive Vik collection as well as top-of-the-line luxurious accommodations. The glorified art gallery of a hotel is perched on a hilltop and therefore affords guests panoramic views that take the breath away. Hotel amenities include outdoor activities, spa, sauna, and gym.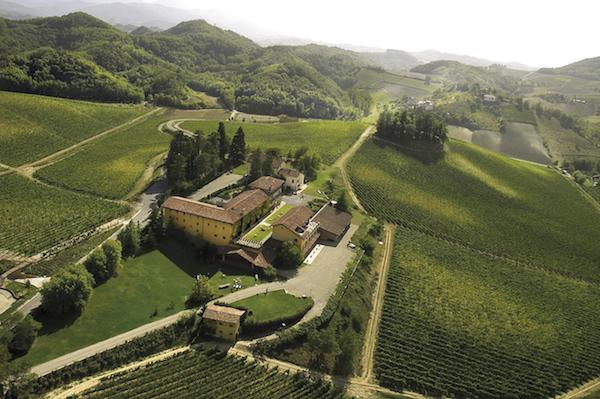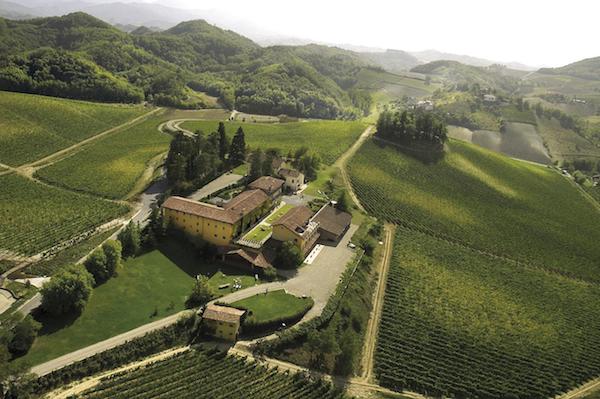 Albergo L'Ostelliere
Location: Piedmont, Italy
Price: from $190 per night at Booking.com
What To Expect: Located in the Piedmontese village of Monterotondo di Gavi, this four-star hotel is a restored 17th-century farmhouse, and the vineyards of Villa Sparina Winery surround it. The views of this winemaking territory are spectacular, and the accommodations are the height of luxury featuring contemporary furniture from all over Europe, in particular from Britain, France, Spain, and Italy.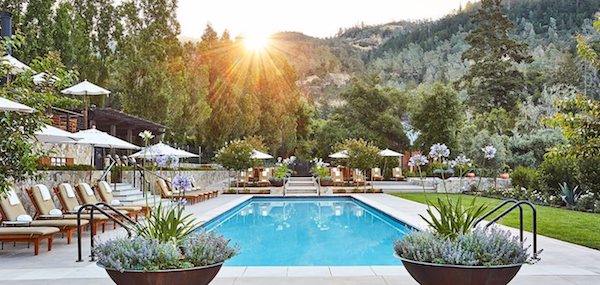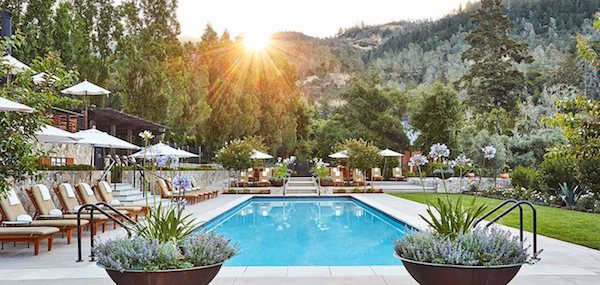 Calistoga Ranch
Location: Calistoga, California
Price: from $795 per night at Booking.com
What To Expect: Located at the far end of the Napa Valley, this hotel looks like rustic Redwood cabins from the outside but inside features polished contemporary luxury suites that make guests think of never leaving. The Calistoga Ranch Vineyard is only a few yards away, and dense forests seclude guests in the lap of luxury.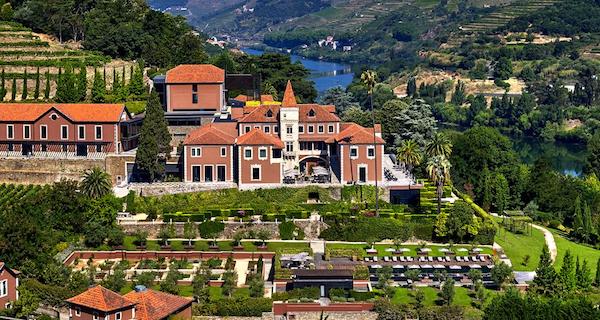 Six Senses Douro Valley
Location: Lamego, Portugal
Price: from $570 per night at Booking.com
What To Expect: Just as the namesake suggests, this hotel strives to invoke and tantalize all the senses, and it certainly achieves this and more. Nestled in the heart of Douro Valley, a wine-making territory, this hotel offers a tour of the on-site winery as part of its many attractions. When not enjoying the tremendous wine-related features, guests can indulge in a spa treatment or relax in the comfy in-room conveniences.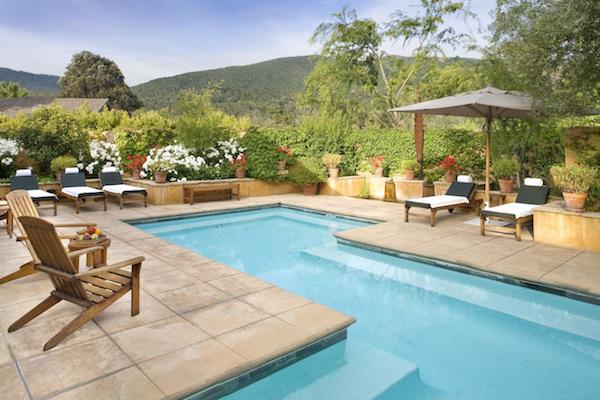 Bernardus Lodge & Spa
Location: Carmel Valley, California, U.S.
Price: from $300 per night at Booking.com
What To Expect: This hotel has been deemed as one of the best resorts in California and with the Bernardus Winery only walking distance away and luxurious accommodations, that comes as no surprise. Guests are greeted with a glass of wine upon arrival then get to relax in any one of the beautifully decorated rooms, which feature a stone fireplace and deep-soak tub. Other amenities include the seasonal Lucia and a sun-drenched spa where guests can soak in a luxurious chardonnay-filled bubble bath.
The Vines
Location: Mendoza, Argentina
Price: from $695 per night at Booking.com
What To Expect: Located on 1500 acres of private property, this ranch-style resort offers panoramic views of the Andes. The hotel features glass and wood villas built upon the vineyards that it sits upon. Guests have the option of buying a small plot of land to work alongside the expert winemakers cultivating the grapes into the tasty drinks.